There are currently 199 players remaining. Three more hours of play tonight.
Level:

9
Blinds:

400/800
Ante:

0
With K-K versus K-K and a lot of capped betting, Tommy Hang and Mike Pickett end up chopping a big pot. Afterwards, the player in the big blind reveals he folded pocket Aces in the face of heavy betting on the turn.
Tommy picked up a 12K pot from Mike Pickett when he rivered a gut shot straight draw to crush Mike's trip sevens. Hang now has around 26,000. Pickett is down to 25,000.
After capping preflop, Gus Araneta's A-A falls to Nick Palmer's A-Q when the board comes
. The large pot pushes Palmer's stack up to 25,000, while Araneta falls back to 27,000.
We told you there were a lot of short stacks.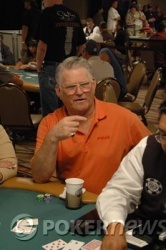 A ten on the river brought down a nice pot for T.J. Cloutier with his ATo, leaving his opponent with a wry grin. T.J. is up to 15,000.