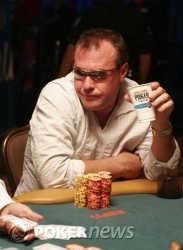 The third hand of heads up began with Pickering having about 950,000 to Selbst's 1.3 million. The two talked a bit about chopping the cash and playing for the bracelet, but couldn't come to terms and the hand was dealt.
"RAISE POT!!!" cried Pickering,
again
without looking at his cards. An incredulous Selbst checked hers, and made the call.
The flop came
. Selbst checked. Pickering again bet the pot, still having not checked his cards. "Have you really not looked?!" asked Selbst. She made the call.
The turn was the
. This time Pickering checked. It was Selbst's turn to put on the pressure. She bet the pot.
Thus ensued about ten minutes' worth of hilarity as Pickering contemplated whether or not to call, or perhaps raise the pot again. He also had to decide whether or not he was going to look at his cards.
Finally, amid the shouts of the 70-80 spectators we have gathered around, he gave in and looked at his hand.
"Oh, sh*t! I'm dead!" he said. "Five-king-eight-two!"
"RUN IT FOUR TIMES!" came a shout from the rail.
"I've got a shot at a wheel," he said. Finally, amid the ever-rising craziness surrounding the table, he let it go. Selbst showed Q-7-7-9, not much, but better than what Pickering had folded.
Selbst has retaken her commanding chip lead.