Event 19 - $1,500 Pot-Limit Omaha
Day: 2
Event 19 - $1,500 Pot-Limit Omaha
Day 2 Completed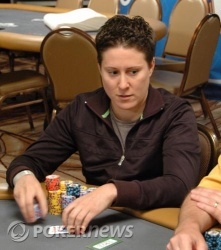 Vanessa Selbst's session-ended knockout of Tony Phillips has put her in a dominant position entering the final of Event #19, $1,500 Pot-Limit Omaha. Selbst will begin the final with a 1,047,000-chip mountain, more than three times that of her closest competitor, Jamie Pickering. The complete final nine:

Vanessa Selbst 1,047,000
Jamie Pickering 329,000
Stanley Statkiewicz Jr 318,000
Thom Schultz 144,000
Eugene Todd 127,000
Mel Randolph 117,000
Craig Natte 108,000
Jamie Robbins 70,000
Ken Lairson 16,900

Join us at 2pm as action resumes in the Amazon Room, and the bracelet winner is decided.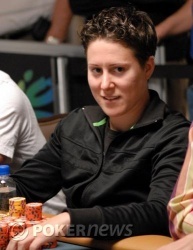 After a fast and furious Day 1 that saw 759 runners play down to 46, we saw another wild day today as players raced their way down to tomorrow's final nine in the $1,500 Pot-Limit Omaha event.

Vanessa Selbst maintained a large chip advantage throughout, constantly applying pressure to the shorter stacks. As the blinds rose, we witnessed more and more classic PLO race situations as made hands vied with big draws for ever-increasing piles of chips.

We careened toward those last couple of orbits at the ten-handed table. Then, after play had slowed considerably for a half-hour, our day concluded with that breathtaking final hand which ended with Selbst having approximately half the chips in play.

So all of you Omahalics, be sure to come back here tomorrow at 2pm Vegas time for more of "the action game." And thanks, as always, for following along thus far.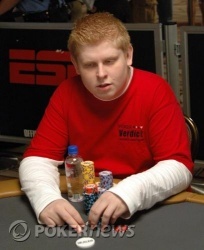 A hugely dramatic end to today's play here in the Amazon room. Thom Schultz raises to 20,000 from under the gun before Vanessa Selbst reraises to 75,000 from the cutoff. The action doesn't stop there though, as Tony Phillips raises again to 239,000 from the big blind. Schultz gets out of the way and Vanessa contemplates her next move. She asks how much Phillips has behind and calls when she's told it's 188,000.

Before the flop comes down Phillips slides his whole stack into the middle. The rest of the table can't quite believe what they're seeing; neither can we.

The flop comes
.

Everyone's waiting on Selbst's decision and you can hear gasps of air taken when she announces "Call."

Phillips flips over
.
Selbst flips over
.

The turn comes
and river
!!!

She hits two pair to eliminate Phillips in harsh circumstances and scoop a massive pot. She defended her play by saying, "I'm here for the bracelet and I didn't want him to have position on me tomorrow with a ton of chips."

We have our final table of nine, set for tomorrow.

The final table has been set. And our last hand of the day was a doozy. Stay tuned . . .

As the button heads around the table, Vanessa Selbst and Anthony Phillips have been the ones most frequently picking on the blinds.

Meanwhile, Ken Lairson has been folding every hand, including his big blind. He's now down to 20,000.

Noticing Lairson's tight play, Selbst had an idea to move things along. "Can we add antes for just one round?" she asked, and the table laughed.

They have consolidated all ten players at a single table, where chips have been moving back and forth at a slightly slower clip as everyone wants to stick around for tomorrow's final table.

Ken Lairson is the short stack at the moment with 28,000 -- just 3.5 big blinds. He'll surely be putting all those chips in momentarily.
Level: 16
Blinds: 4,000/8,000
Ante: 0

One more elimination and we'll have our final table. The players have decided to play through, and so there will be no dinner break.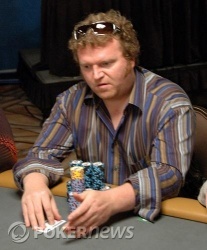 Anthony Phillips raised from the cutoff, Calen McNeil reraised all in from the small blind, and Phillips called. McNeil showed
, and Phillips
.

The board came
, giving Phillips the flush and sending McNeil home in 11th.