Event 26 - $1,500 Razz
Days: 3
Event 26 - $1,500 Razz
Day 3 Completed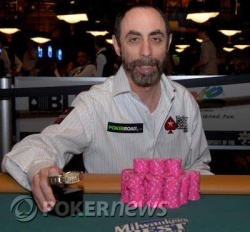 After three long days of play, Barry Greenstein has emerged as champion. Starting the day second in chips, Greenstein managed to avoid big confrontations and instead slowly accumulated chips. When play reached four handed, that's when "The Bear" turned it on, quickly becoming chip leader. Greenstein hung onto that lead for most of the remainder of the tournament.

Adding to what will almost certainly be considered "the year of the pro," Greenstein's title adds to the already long list of respected full time professionals to pick up a bracelet at this year's WSOP.

This is Greenstein's third cash of this year's WSOP, his second final table, and his impressive third WSOP bracelet. This win catapults him over the $6,000,000 in career earnings mark.

As usual, Greenstein was all business as he accepted the bracelet. In addition to the hardware, and a coveted place in history, Greenstein walks away with $157,619 in prize money.

Congratulations to Barry Greenstein for his victory in Event #26 - $1,500 Razz. One would be hard pressed to find a more skilled, dedicated or deserving champion.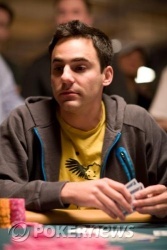 A short-stacked Chris Klodnicki raised himself all in on third street. Greenstein made the call and the players showed:

Klodnicki: (
) (
)

Greenstein: (
) (
)


Both men stood up and watched as the cards were dealt one by one. By the end, the players showed:

Klodnicki: (
) (
)
(
)
Greenstein: (
) (
)
(
)

Greenstein's
was best and he won the pot, and the tournament. Chris Klodnicki was eliminated in 2nd place and along with a story to tell, takes home $97,389 in prize money.
Chris Klodnicki is left with just 110,000 chips after calling down Barry Greenstein to the river. Greenstein showed a
which was good enough to win the hand and leave Klodnicki with less than 2 big bets.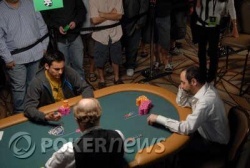 As we approach hour three in this heads up battle, Chris Klodnicki looked over at a seemingly bored Barry Greenstein and asked "are you tired?" Greenstein's expression didn't change in the slightest as he said "not even close....poker doesn't tire me out at all."

Klodnicki may not know it, but Greenstein is on record as saying he has previously played for three days straight. Granted those were in his younger days, but nevertheless, I don't think we'll see stamina be an issue for "The Bear" this evening as he closes in on his third WSOP bracelet.
Klodnicki was all in on fifth street and told Greenstein "I'm still drawing." Greenstein replied "so am I."

By sixth street, Klodnicki had made a
low and Greenstein was drawing dead. He is now up to roughly 320,000.
Barry Greenstein just came back over the 1,000,000 mark. In a hand that saw the river, Greenstein tabled a
which had Klodnicki mucking.

Greenstein won the next two hands and Klodnicki is now very short with just 160,000.
Chris Klodnicki is working on a comeback. He just picked up a nice pot in which Greenstein folded sixth street when he showed (X) (X)
.

Barry Greenstein - 750,000
Chris Klodnicki - 615,000
On just the 2nd hand of play since the break, Chris Klodnicki doubled up.
Klodnicki bet the whole way and Greenstein called. His last 15,000 went in dark on 7th street and Greenstein made a reluctant call.

Klodnicki showed: (
) (
) (
)
and Greenstein mucked his (X) (X)
(X).

Klodnicki is up to 520,000 after the hand.
Level: 25
Blinds: 0/0
Ante: 0