Event Info
| | |
| --- | --- |
| Buy-in | $1,500 |
| Prize Pool | $3,693,690 |
| Players | 2,706 |
Level Info
| | |
| --- | --- |
| Level | 28 |
| Blinds | 60,000 / 120,000 |
| Ante | 15,000 |
Event 27 - $1,500 No-Limit Hold'em
Day 3 Completed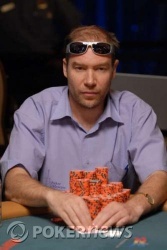 Vitaly Lunkin is the champion of Event #27 - $1,500 No-Limit Hold'em. This is his first WSOP gold bracelet. He was all smiles as the tournament staff presented him with the bracelet. He even mugged for the cameras, holding the bracelet with both hands over his head.

Lunkin played a cagey final table, and but for some bad luck on two occasions when a board flush overcoated his hand to give an opponent second life, this final table would have been over much sooner than it was.

Lunkin not only earned a WSOP gold bracelet, but he also walks away from this tournament with a cash prize of $628,417. That's pretty good for three days in the Amazon Room. PokerNews offers its most heartfelt congratulations to Lunkin.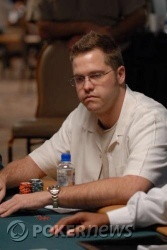 Brett Kimes completed the small blind on the button, then called a raise to 600,000 from Vitaly Lunkin.
Lunkin checked a flop of
over to Kimes, who checked behind. The turn came
. As Lunkin was getting ready to bet, Kimes glanced from Lunkin's chips to his own, and clearly seemed ready to make a big all in raise. Lunkin bet 1,000,000, and sure enough, Kimes quickly came over the top all in. Lunkin made a snap call.
"Do you have a jack?" asked Kimes. Lunkin nodded yes. "Sh*t," said a dejected Kimes. He turned over
and was behind Lunkin's
. Lunkin needed to dodge the river, which he successfully did when the river fell
.
Lunkin is the winner. Kimes collects $387,837 for his second place finish.
We can't be certain, but it appears that Brett Kimes may be a bit nervous about playing big pots against Vitaly Lunkin after his near-disaster 25 minutes ago. He seems to be trying to keep pots small, is playing passively, and has not been calling many preflop raises. Lunkin continues to chip away at Kimes' stack and recently took the chip lead.
Vitaly Lunkin - 4,600,000
Brett Kimes - 3,600,000
Chips have been passing between the two players the last few hands. A lot of limped flops have been seen but few have gone beyond that stage. Lunkin has had the edge, just, edging his way nearer to an even split in chips
Oh, to be inside Vitaly Lunkin's head right now. He completed the small blind on the button, only to see Brett Kimes raise to 620,000. Lunkin made the call.
The flop came
, and Kimes led out for 1.1 million. Lunkin quickly announced he was all in, a total of 2.876 million. Kimes had him covered.
"I think my gut's right," said Kimes, after tanking for a minute. Thirty seconds later, he made the call.
Lunkin:
Kimes:
A complete catastrophe for Kimes - Lunkin flopped the nut straight against Kimes' middle pair. The turn brought the
to put four diamonds on board. Kimes needed a diamond for a chop, and he got it when the river filled
. For the second time tonight, Lunkin had an opponent crushed, only to see the board flush and overcoat his hand.
Meanwhile, Kimes lets out a huge sigh of relief, and play goes on as if that hand never happened.
Kimes took around nearly 600,000 chips back off Lunkin after check calling a flop and turn bet before the river was checked through.
The board was
.
Kimes turned over
for the pot.
Level:

28
Blinds:

60,000/120,000
Ante:

15,000
After a series of limped pots, we finally saw Vitaly Lunkin and Brett Kimes engage in a big pot. Kimes limped in on the button, but called after Lunkin raised to 375,000. The flop came
, and Lunkin led out for 350,000. After a brief pause, Kimes raised to 700,000. Without missing a beat, Lunkin announced he was all in. Kimes quickly folded.
Kimes took a hit of over 1 million chips on that hand. Lunkin is now the chip leader.