Francisco Azares just knocked out Ravi Shankar. Azares is now up to 200,000.
Benajmin Hamnett and Jacobo Fernadez both saw an
flop.
Hamnett made the move with all of his chips and wasn't too happy to find a quick call from Fernadez.
Hamnett had
.
Fernandez was ahead with
.
He moved further ahead when the turn came
and river
to make a full house. Hamnett sits in his seat a while before accepting his fate and leaving.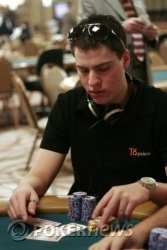 Julian Powell got all of his chips in on a flop of
against Francisco Azares, who had him covered.
Powell had
for top pair, a gutshot, and a flush draw. Azares had
for bottom pair and a better flush draw. The turn was the
, and Powell was still okay. But the
on the river ended Powell's day.
Azares is up to 130,000.
Loren Klein, Jacobo Fernandez, and Kevin O'Donnell all saw a raised flop that read
.
It's checked to Klein who bet 25,000 before Fernandez raised the pot. O'Donnell folded before Klein made the call all in.
Klein flipped over
.
Fernandez revealed
.
The turn came
and river
.
A full house for Fernandez is good enough to win this pot and eliminate Klein.
Tim "Tmay420" West just doubled through Thomas Wahlroos. A series of bets before the flop had West all in. West held
, and Wahlroos
.
The flop brought two sixes --
-- giving both players trips, and West the better kicker. The turn was the
and river
, and West doubled up to 395,000. Wahlroos fell back to 215,000.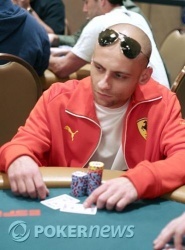 Benjamin Hamnett raised to 28,000 before Patryk Hildebranski reraised all in for 68,000. The call was made so the cards were on their backs.
Hildebranski showed
.
Hamnett showed
.
The board came
.
Not enough help for Hildebranski and he's the first player out since we've been back from break.
We're into level 15. Blinds are 4000/8000.
Level:

15
Blinds:

4,000/8,000
Ante:

0
Players are on a 60-minute dinner break. All-in survivals dominated the period leading up to the break.

Benefitting most from all-in maneuvers was Michael Guzzardi, who has gone from a short stack up to 270,000 by moving in, as he put it, "A bunch of times."
Table 61:

Seat 1 - Michael Schwartz
Seat 2 - Jacobo Fernandez
Seat 3 - Nathan Doudney
Seat 4 - Patryk Hildebranski
Seat 5 - Johannes Strassmann
Seat 6 - Benjamin Hamnett
Seat 7 - Kevin O'Donnell
Seat 8 - Loren Klein
Seat 9 - Daniel Makowsky

Table 62:

Seat 1 - Ted Forrest
Seat 2 - Jerrod Ankenman
Seat 3 - Frank Vizza
Seat 4 - Jeff Williams
Seat 5 - Julian Powell
Seat 6 - Francisco Azares
Seat 7 - Ravi Shankar
Seat 8 - Michael Zowie
Seat 9 - Nathan Hagens

Table 63:

Seat 1 - Dario Alioto
Seat 2 - Layne Flack
Seat 3 - Michael Guzzardi
Seat 4 - Tim West
Seat 5 - Erik Seidel
Seat 6 - Steve Saris
Seat 7 - Thomas Wahlroos
Seat 8 - Kyle Kloeckner
Seat 9 - Tino Lechich