Event Info
Level Info
| | |
| --- | --- |
| Level | 23 |
| Blinds | 0 / 0 |
| Ante | 0 |
Event 35 - $1,500 Seven Card Stud
Day 3 Completed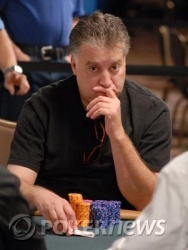 Mike Rocco is the champion of Event #35 - $1,500 Seven Card Stud. He was, by far, the most emotional of the champions in the events that this reporter has covered thus far in the the 2008 World Series of Poker. He screamed, "Yes!" several times, both after crippling Barbieri and then eliminating him. He pumped his fist and flexed while screaming, then got hugs from several supporters and was in tears while on the phone with other supporters.

In addition to the champion's gold bracelet, which is already on Rocco's wrist, Rocco will collect $135,753 from the cage when he is done posing for photographs. Congratulations to Mike Rocco.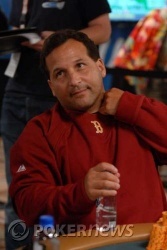 It's not looking good for Al "Sugar Bear" Barbieri. He led the betting on every street to the river after starting with the
against Mike Rocco's
. The boards came:
Barbieri:
Rocco:
Barbieri bet the river dark. Rocco squeezed, then quickly raised. Barbieri had no choice but to call. Rocco showed a seven-high straight.
On the very next hand, the fifth hand since Barbieri made his prediction, Barbieri was all in on third street. He made a pair of threes on sixth street, but Rocco made a pair of kings on seventh. Barbieri squeezed his river card and couldn't come up with anything else.
He is eliminated in second place and collects $83,210.
Al Barbieri has returned from the break, apparently back to his old good-natured form. As they sit back down, Sugar Bear makes his latest prediction:

"If you don't get me in 15 hands, we're gonna be here a while. Fifteen, Mike. You gotta get me in 15. Count 'em."
Level:

23
Blinds:

0/0
Ante:

0
The cards are in the air once again.
Mike Rocco - 883,000
Al "Sugar Bear" Barbieri - 257,000
Play will resume in 20 minutes.
Mike Rocco - 930,000
Al "Sugar Bear" Barbieri - 210,000
Al Barbieri is having trouble winning the pots that go to the river. He just lost another one to Mike Rocco. The two traded the betting lead back and forth on third through sixth streets. On the river, the board read:
Barbieri:
Rocco:
Rocco bet the river with his open fives, and Barbieri made the call. Rocco opened
. Barbieri just shook his head.
"Jesus..." he sighed, his voice trailing off. He showed Rocco his own hand: a queen and a four in the hole for two pair, queens and fours. Barbieri now has just 210,000 in chips.