Congratulations to Frank Gary, Event #41 Champion! ($219,508)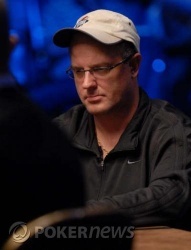 Event # 41 began three long days ago with a field of 731 entrants. Over the course of 25 levels of play, that number was whittled down further and further until there was just one man left standing.

That man was Frank Gary. Gary outlasted the whole field and a tough final table of nine to capture his first gold bracelet and well over $200,000 in cash money. Gary was by far the tightest player at the final table for the first several hours, contrasting mightily with the loose and aggressive style of dominant chip leader Nick Binger. Gary waited patiently though, only opening up his game when the table got down to four and three-handed. His rocky style of play paid off, and he was able to come out on top of Jonathan Tamayo in a relatively quick, high-level heads-up skirmish.

Gary is soft-spoken and mild, coinciding nicely with his style of play. We finally got to see him smile though as he was awarded the gold hardware and crowned as the victor. Congratulations to Frank Gary, Event # 41 Champion!