Event 6 - $1,500 Omaha Hi-Low Split-8 or Better
Day: 3
Event 6 - $1,500 Omaha Hi-Low Split-8 or Better
Day 3 Completed
833 started this $1,500 Omaha Hi-Lo Event, making it the largest Omaha Hi-Lo field in World Series of Poker history. Thang Luu outlasted 832 other competitors to bring home his first World Series of Poker bracelet.

This was Luu's fourth WSOP final table. In 2005, Luu finished third in the Employee's Event. Last year, he finished runner up to Frankie O'Dell in the $2,000 Omaha Hi-Lo event. He used an aggressive strategy to amass chips near the bubble and continued to use that aggressive style to build a stack that eventually overpowered all challengers.

Congratulations to Thang Luu, champion of the $1,500 Omaha Hi-Lo event.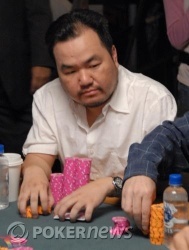 Congratulations to Thang Luu who emerged late on Day 2 with his aggressive play in the bubble to storm to an overnight chip lead heading into today's final table. He maintained his aggressive style all the way through the final table to emerge victorious in a tough heads up battle with Spencer Lawrence.

Luu collect his first WSOP bracelet and takes home $243,356 in prize money!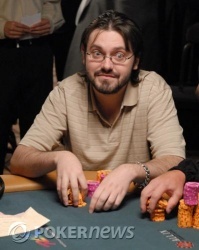 Thang Luu raised it up preflop and Spencer Lawrence made the call.

The flop came
and Lawrence checked to Luu who made the continuation bet. Lawrence announced a raise, and Luu quickly reraised. In a series of raises Lawrence found the rest of his chips in the middle with his tournament life on the line.

Lawrence:

Luu:


The turn brought the
and river
to give Luu a full house, kings full of sevens, to take down the pot and WSOP bracelet!

Spencer Lawrence finishes in second place after a great tournament and superb final table effort to collect $156,343 in prize money.
Spencer Lawrence limped in from the small blind and Thang Luu popped it up from the big blind. Lawrence made the call.

The flop came
and Luu fired out a bet. Lawrence made the call.

The turn landed the
and Luu quickly fired out another bet. Lawrence again made the call.

The river was the
and before it was revealed Luu had already fired another 120,000 into the middle in the dark. Lawrence went into the tank and at times seemed more interested in arranging his chips into stacks of 60,000 than focussing on the hand in question.

Then out of nowhere Lawrence announced a raise to 240,000. Luu thought briefly before reraising once again. Lawrence again went into deep thought, counting out his chips and crossing his hands behind his head. He eventually made the call as Luu tabled
for the nut flush.

Lawrence is now down to under 600,000 in chips as the bracelet looks to be slipping away from his grasp.
It was two bets before the flop. One a flop of
, Lawrence bet and Luu called. On the turn of
, Luu bet out and Lawrence raised. Luu called. On the turn of the
, Luu bet out and after thinking a minute or so, Lawrence folded.

After this pot, Lawrence is down to 750,000 in chips. Luu sits with 1,750,000 in chips.
Play has recommenced after the break, with the green 25,000 denomination chips now in play for the first time to make life easier for the players as the blinds have now jumped to 30,000/60,000.
Level: 27
Blinds: 30,000/60,000
Ante: 0
Remarkably at the break only 10,000 in chips separates our two players. Lawrence holds a slight lead with 1.255 million against Luu's 1.245 million!
The players are now taking a 20-minute break.