Event 31 - $1,500 H.O.R.S.E.
Days: 3
Event 31 - $1,500 H.O.R.S.E.
Day 3 Completed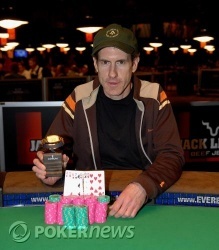 It seemed as though everyone watching was going through a little bit of deja vu as James Van Alstyne was heads up in a H.O.R.S.E. tournament for the second time within one week's time.

In Event #21, $3,000 H.O.R.S.E., Van Alstyne went to battle with Zac Fellows, but came out in second place. Under five days later, he was right back in the final two of another mixed game event. His chip lead going into heads-up play was greater against the much shorter stacked Tad Jurgens. The buy in was also a little smaller this time around, but James was able to finish things off and come out victorious.

Once he grabbed hold of the chip lead, it was smooth sailing for Van Alstyne. He ran over his opponents with powerful play and strong hands en route to capturing his first World Series gold bracelet! Along with the bracelet comes nearly $250,000 in prize money to add to his already $3 million plus in career tournament earnings.

Congratulations to everyone and especially to the winner, James Van Alstyne. It was a victory well deserved.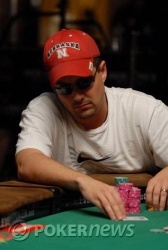 Stud:

Jurgens:
/
/

Van Alstyne:
/
/


Split deuces must have looked like a monster to Tad Jurgens. With only two-and-a-half big bets in his stack, he had no choice but to raise after James Van Alstyne completed the bring-in. Van Alstyne called the raise, called a bet on fourth street, and then called Jurgen's all in on fifth street.

"Gimme an ace, right here!" Jurgens pleaded with the dealer on sixth street. But it was instead Van Alstyne who paired tens, giving Jurgens the river sweat. When Jurgens failed to improve, he was out in second place, banking $152,654 for the honor.
Tad Jurgens can't stop catching the bring-in bet in razz and stud. With no viable cards to play, he's down to about 200,000.
Omaha Hi/Lo:

Tad Jurgens is down to a mere five big bets remaining in his stack after mucking at showdown against James Van Alstyne. Jurgens check-called the
flop, bet the
turn and was called, then check-called the
river. Van Alstyne showed down
for a queen-high straight to drag the pot.
Heads-up play started with chip counts of 2.485 million for James Van Alstyne and 980,000 for Tad Jurgens. Van Alstyne has been opening almost every pot with a raise and has ground Jurgens down to 700,000.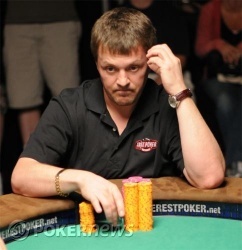 Stud Hi/Lo:

Schock:
/
/

Van Alstyne:
/
/


Down to just 325,000, Mitch Schock could play one hand to the river. The hand he chose to play couldn't have gone worse. Schock led out on fourth street and fifth street, with James Van Alstyne calling each time. On sixth street, Schock bet again. This time Van Alstyne raised enough to put Schock all in. He called and saw that he was drawing dead for both halves of the pot.

Schock's elimination paves the way for a heads-up match between James Van Alstyne and Tad Jurgens. This is the second time that Van Alstyne has been heads-up in a H.O.R.S.E. tournament during the 2009 WSOP; he finished runner-up to Zach Fellows in the $3,000 event.
It's harder to push the action in fixed-limit poker than it is in no-limit or pot-limit poker. Although James Van Alstyne has more than half the chips in play, he seems to be playing cautiously and looking for the best spot to wound Mitch Schock and Tad Jurgens. And with Jurgens and Schock relatively short, they're probably grateful for the slow pace. We haven't made it past third street in ten minutes.
Razz:

Just like that, Mitch Schock's stack is cut almost in half to 450,000. He played a pot all the way to the river against James Van Alstyne. Van Alstyne turned up an 8-7 low, out-pipping Schock's 9-8 low.
Level: 27
Blinds: 0/0
Ante: 0