Event 44 - $2,500 Seven Card Razz
Day: 3
Event 44 - $2,500 Seven Card Razz
Day 3 Completed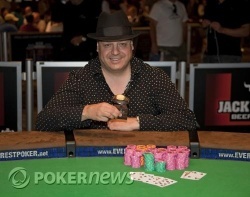 There's no question that Jeff Lisandro just accomplished the greatest feat any stud player has ever achieved in World Series of Poker history. Not only did he just win his third WSOP bracelet of 2009, but he now has one in each discipline of stud poker-- stud high, stud eight or better, and Razz.

Clad in his signature fedora and possessing his typically cool demeanor, Lisandro absolutely ran over this final table. Arriving there with a 2-1 chip lead over his closest opponent, Lisandro really never had to look back. At times it seemed like he just couldn't lose a pot, eliminating four of his seven opponents at the final table, and taking most of Kenna James' stack before Michael Craig finished him off.

For runner-up Michael Craig, his finish is also quite a feat. Though this is his fifth cash and third career WSOP final table, Craig is not a professional player. Rather, he is a writer, penning the book "The Professor, The Banker, and the Suicide King" as well as blogging daily for Full Tilt Poker. Clearly he's picked up some serious Razz skills through his friendships with Ted Forrest and Huck Seed, arguably two of the game's greatest players.

Congratulations to Jeff Lisandro on an incredible feat, and for becoming the first player since Phil Ivey in 2002 to win three WSOP bracelets in one year.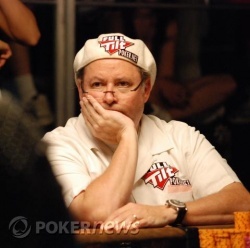 Lisandro (
)(
)
(
)
Craig (
)(
)
(
)

Jeff Lisandro completed, Michael Craig raised and Lisandro called. Craig led out on fourth street and Lisandro called. Craig bet his remaining 21,000 on fifth street and Lisandro called.

In the end it was a T-9-8-7-4 low for Lisandro and K-J-8-6-A for Craig. Craig was eliminated as the runner-up, while Jeff Lisandro earned his third bracelet of the 2009 WSOP and his fourth overall.

For his efforts, Craig will take home $116,405.
Level: 24
Blinds: 0/0
Ante: 0
Craig (X)(X)

Lisandro (X)(X)


Michael Craig brought it in, Jeff Lisandro completed, Craig raised, Lisandro made it three bets and Craig called. Lisandro led out on fourth and Craig called, but Craig folded to Lisandro's fifth street bet.

Craig is on his last 125,000 in chips.
Yeah, it's a bit of a lopsided battle...

Jeff Lisandro 2,153,000
Michael Craig 210,000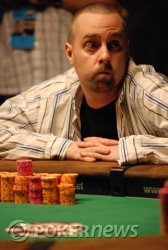 Lisandro (X)(X)
(X)
Fisler (X)(X)
(X)

Jeff Lisandro brought it in, Ryan Fisler completed and Lisandro called. Fisler bet out on fourth, fifth, and sixth streets, Lisandro calling the whole way. Fisler then bet seventh street and Lisandro came in with a raise that would set Fisler all in. After tanking for quite a while and laying his head on the table in frustration, he decided to fold and save his last 35,000 in chips.

It was all over for Fisler only a few hands later:

Craig (
)(
)
(
)
Fisler (
)(
)
(
)

Michael Craig completed on third street Fisler raised all in and Craig called. When the boards were dealt out it was a king low for Fisler and a 6-5-4-3-2 for Craig. Fisler was eliminated in third place while Craig's stack increased to 210,000.
Lisandro (
)(
)
(
)
Craig (
)(
)
(
)

Lisandro completed and Craig called. Lisandro led the entire way and Craig called him down. In the end it was a 7-6-4-3-2 low for Lisandro and a 9-7-6-4-2 for Craig. Lisandro took it down and is now on over 2,000,000 in chips.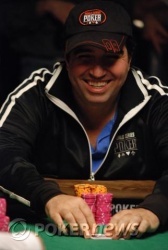 Lisandro (
)(
)
(
)
Mirzikinian (
)(
)
(
)

Ryan Fisler brought it in with a jack, Jeff Lisandro completed, Warwick Mirzikinian called and Fisler folded. Lisandro led out on fourth street, Mirzikinian raised and Lisandro called. On fifth Lisandro bet again, Mirzikinian raised all in and Lisandro called.

Lisandro's 7-6-5-4-2 bested Mirzikinian's T-8-4-3-A and he hit the rail in fourth place.
Jeff Lisandro (X)(X)
(X)
Michael Craig (X)(X)

Warwick Mirzikinian (X)(X)
(X)

Jeff Lisandro completed on third street and got two callers in Michael Craig and Warwick Mirzikinian. Craig bet out on fourth street when both his opponents caught tens. Both Mirzikinian and Lisandro called. Lisandro took the lead on fifth street and led out. Craig caught a king and folded while Mirzikinian made the call. Mirzikinian then bet out on sixth street when Lisandro caught a queen. Lisandro still called. Both players checked the river.

Mirzikinian showed
for a T-9-7-5-2 low, but Lisandro had the better hand with
in the hole for a T-8-7-6-5 low.

Mizikinian is down to 100,000 in chips while Lisandro's stack is now north of 1.5 million.