Event 56 - $5,000 Six-handed No Limit Hold'em
Day: 3
Event 56 - $5,000 Six-handed No Limit Hold'em
Day 3 Completed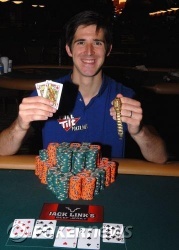 After three long days of intense, high-action, short-handed no-limit hold'em, it ended in a flash as Matt "Hoss_TBF" Hawrilenko defeated Josh Brikis heads up in just four hands to win the last WSOP gold bracelet of the summer, and a whopping $1,003,163.

Hawrilenko tops a field of 928 that included many formidable online and live pros, just 16 of whom made it through to today's final day of play.

Among those who made it, Eugene Katchalov suffered some early bad luck and went out in 15th. Peter Feldman, another dangerous foe, was among the chip leaders when play began today, but he also suffered a couple of unfortunate hands and ended the day in 14th.

James St. Hilaire had built a sizable chip advantage by then, but he, too, ran into a couple of rough hands -- one huge one with Josh Brikis in which the latter spiked a queen on the river to win with A-Q versus St. Hilaire's A-K -- and went out in 9th.

Soon they had reached the seven-handed final table, from which Robert Kay (7th), Matthew Waxman (6th), and Jonas Wexler (5th) were the first to go. The remaining four battled for some time before Sean Keeton, after battling gamely with the short stack for some time, was finally eliminated by Hawrilenko. Three-handed then lasted another hour before Faraz Jaka took pocket queens up against Hawrilenko's ace-king, and Hawrilenko won the race.

Hawrilenko had just over 9 million to Brikis' almost 5 million when heads up began. And just four hands later it was suddenly all over. Congratulations to Matt Hawrilenko, who after a dozen WSOP cashes and four final tables has finally broken through to win his first WSOP gold bracelet!

Thanks for following our coverage of Event No. 56 on PokerNews, and be sure to come back tomorrow for Day 1a of the Main Event!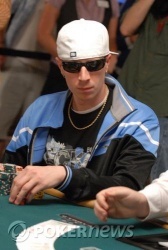 On just the fourth hand of heads up play, Josh Brikis raised to 300,000 from the small blind. Matt Hawrilenko then said "One million", Brikis fired back with "All in", Hawrilenko instantly said "Call!".

Showdown:
Brikis:

Hawrilenko:


With a bunch of mixed callings from the rail, the board ran out
and Josh Brikis is our 2nd place finisher.

In the first hand of heads up play, Matt Hawrilenko reached to raise from the small blind/button, and Josh Brikis folded before he grabbed any chips.

In the second hand, Josh Brikis raised before the flop and Hawrilenko called. The flop came
. Hawrilenko checked, Brikis bet 450,000, and Hawrilenko called. The turn was the
, and both checked. The river was the
. Hawrilenko checked, Brikis bet just 300,000, and Hawrilenko grabbed his water. After a few sips, he grabbed some chips, but then let it go.

In the third hand, Hawrilenko again raised from the button, and Brikis let it go.

The fourth hand... well, that was a doozy. Stay tuned.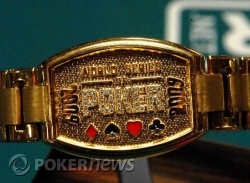 Matt Hawrilenko and Josh Brikis are taking a 20-minute break before they begin their heads-up battle.

Hawrilenko -- 9.025 million
Brikis -- 4.975 million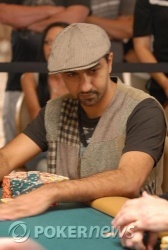 After a few raises back and forth, Faraz Jaka and Matt Hawrilenko got all of their chips in preflop.

Jaka showed
and Hawrilenko tabled
. We had ourselves a classic race.

The board would run out
and Mr. Jaka is our 3rd place finisher.

Hawrilenko is now in command with 9,025,000.
Faraz Jaka raises from the button to 250,000. Josh Brikis makes the call from the small blind. Both player checked the flop of
. The turn would then come the
. Brikis would check call a bet of 350,000 from Jaka. To the river, it fell the
again Brikis checked, Jaka fired 800,000 and Brikis insta called. No sooner than Brikis called, Jaka mucked his hand. Brikis showed
and said "Cmon, you can't push me around all night."

Brikis is now up to 4,625,000.

Matt Hawrilenko -- 6.75 million
Faraz Jaka -- 5.15 million
Josh Brikis -- 3.5 million
Level: 28
Blinds: 50,000/100,000
Ante: 10,000

Faraz Jaka limped in from the button/under the gun, Josh Brikis folded from the small blind, and Matt Hawrilenko tossed his cards to the muck.

"What did I do?" asked Hawrilenko, immediately realizing he'd folded unnecessarily. Jaka dragged the pot. "I wanted to see a flop, actually," Jaka said. "Sorry about that," answered Hawrilenko with a sheepish grin.

"Can't do that online, can you?" added Josh Brikis.