Event Info
Level Info
| | |
| --- | --- |
| Level | 28 |
| Blinds | 50,000 / 100,000 |
| Ante | 10,000 |
Level:

26
Blinds:

30,000/60,000
Ante:

5,000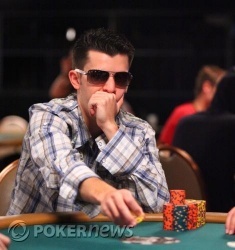 Sean Keeton made a raise from early position to 150,000. Matthew Waxman then pushed all in for 605,000 from the cut off. Action folded to Josh Brikis in the big blind who also announced he was all in. Keeton folded.
Waxman:
Brikis:
The board would run
. Waxman is our 6th place finisher. Brikis has over 5,000,000 in chips and is our new chipleader once again.
Faraz Jaka open-shoved from the button, Sean Keeton folded the small blind, and Matt Waxman stood up to ask Jaka how much he had. Waxman was the short stack, but he wanted to get an idea anyhow.

Jaka had about 1.8 million behind, while Waxman only had 700,000. Waxman exhaled, rechecked his cards, and let it go.
Josh Brikis raised to 175,000 from the cutoff, and it folded around to Sean Keeton who called from the big blind. Both checked the
flop. The turn was the
. Keeton checked, Brikis bet 200,000, and Keeton quickly folded.
Brikis is up to 4.75 million, and Keeton has 1.45 million.
Jonas Wexler raised to 125,000 from under the gun, and got three callers -- Matt "Hoss_TBF" Hawrilenko (cutoff), Sean Keeton (small blind), and Matt Waxman (big blind). The flop came
, and all checked. The turn was the
. Keeton checked, Waxman bet 280,000, Wexler folded, then Hawrilenko said he was all in.
Keeton got out of the way, and after a minute or so Waxman gave it up as well. Hawrilenko is up to 4.65 million, while Waxman slips to 865,000.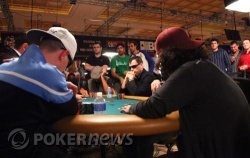 As per usual since dinner, Jonas Wexler raised from middle position to 130,000. It was folded all around to the big blind Sean Keeton who made the call.
The flop fell
and Keeton check called a bet of 160,000 from Wexler. Both players would end up checking the
on the turn. The river would bring the
, this time Keeton led out for 230,000. Wexler mulled over it for a minute before eventually folding.
Keeton up to 1,700,000.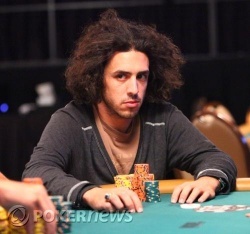 Jonas Wexler opened with raises to 140,000 the first three hands following the break. He won the first and third without a fight. On the second, Josh Brikis reraised to 300,000, and Wexler got out of the way.
Matt Hawrilenko took the next hand with a preflop raise. On the next one, it folded around to Wexler in the small blind who completed, and Brikis checked behind from the big blind.
The flop came
. Wexler paused a beat, then bet 75,000. Brikis quickly called. The turn was the
, and this time Wexler bet 170,000.
Brikis sat motionless, his right hand -- in a cast -- resting on his left shoulder as is his usual pose. Finally he picked up his cards with his left hand and tossed them to the dealer.
Wexler is up to 1.925 million, and Brikis is at 4.35 million.
All the players are well fed and ready to play. Cards are in the air.
Level:

25
Blinds:

25,000/50,000
Ante:

5,000
Players are now taking a 75-minute dinner break, meaning we should be back here around 7:25 p.m. or so for the continuation of our final table.

Here are the counts as players go to break:

Josh Brikis -- 4.65 million
Matt Hawrilenko -- 3.75 million
Sean Keeton -- 1.6 million
Jonas Wexler -- 1.55 million
Faraz Jaka -- 1.4 million
Matt Waxman -- 1.35 million