Event Info
| | |
| --- | --- |
| Buy-in | $1,000 |
| Prize Pool | $3,910,500 |
| Players | 4,345 |
Level Info
| | |
| --- | --- |
| Level | 33 |
| Blinds | 120,000 / 240,000 |
| Ante | 30,000 |
Event #3: $1,000 No-Limit Hold'em
Day 4 Completed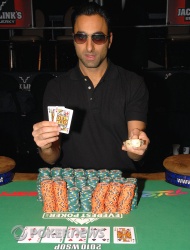 As expected, the opening $1,000 event was a marathon. It may not have exceeded the numbers of last year, but when players glanced across the seemingly endless sea of tables adorning the newly introduced Pavillion Room, the sight must have been overwhelming. But, out of those 4,345 hopefuls, someone had to win, and today that man was Aadam Daya.
A 31-year old business analyst from Mississauga, Daya entered today's final first in chips with 2,855,000, and although history books suggest that he should have gone from strength to strength, that wasn't the case as the chip lead continued to chop and change as the final progressed. The final table was undoubtedly a turbulent and unpredictable affair.
However, despite the occasional setback, Daya remained focused throughout, and after doubling through off third placed Gabe Costner in what was surely the 'bracelet winning hand', he never looked back. Runner-up Deepak Bhatti put up a superb fight heads-up, especially having entered the final last in chips, but it was ultimately Daya who emerged triumphant, showing the patience of a saint before sealing the deal with queens.
Before coming to Vegas, Daya's one goal was to win a bracelet, and just one week into the Series, he's done just that, taking down Event #3's $1,000 No Limit Hold'em Freezeout for a whopping $652,872. Well done, that man!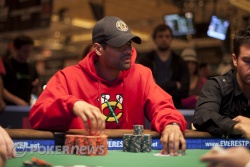 After a short period of the two players taking it in turns to give each a walk, interspersed with the occasional all in from Aadam Daya, Deepak Bhatti shoved from the button. Daya looked at his cards, and then, terribly nonchalantly, called.
Everyone at the rail jumped up and crowded around the table.
Bhatti:

Daya:
Board:
With that, Bhatti's valiant short-stacked grinding efforts came to an end.
Ladies and gentlemen, we have a winner.
With just several thousand in front of him and blinds of 120,000 and 240,000, it was looking bleak for Deepak Bhatti, and when Aadam Daya confidently announced all-in from the button, Bhatti's head sunk towards the felt.
After a minute or two in the tank, Daya shrugged his shoulders and called, turning over
in the process. Much to Bhatti's chagrin, Daya revealed
.
The
flop looked clinical, giving Bhatti a Broadway straight and flush draw to go with his already dominating queen high. Both men had their arms folded, standing over the table in what looked like a mirror image, but beyond the poker faces, it was Daya who was doing cartwheels.
However, just as the janitor was eying up the surrounding area, and I was thinking about what to include in my final post, the dealer did something rather cheeky and popped a
onto the felt. The loyal followings "oohed" and "aahed" as Bhatti's body language suddenly became more upbeat.
But, it wasn't over yet, as Daya still had the redraw, and as both players looked on intently, the river came a blank
to deliver Bhatti an unlikely, but much needed of double throughs.
They think it's all over... not yet.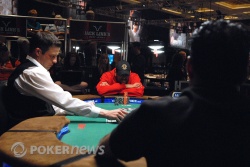 Bhatti's stack is now around a million to Daya's 12 million or so. This could be over pretty sharpish.
Level:

33
Blinds:

120,000/240,000
Ante:

30,000
Here's hoping it's the last one of the night - two more levels and we'll be off the structure sheet.
Back in 20.
Some curiousness now, as Deepak Bhatti raised from the button. Didn't shove, just raised. To 500,000, leaving himself with 1.5 million, or seven and a half big blinds, behind. Aadam Daya called.
The curiousness continued as they checked down the
board, and at the end of it Daya flipped
for king high. Bhatti couldn't beat it, and Daya took the pot.
The blinds are now so big that Deepak Bhatti has reached the stage where an all-in is more appropriate than a standard raise, meaning we may be just moments away from a finish, or, at least, an all-in showdown. However, Bhatti's timing appears to be impeccable thus far, with each all-in picking up the pot uncontested.
Deepak Bhatti -- 1,950,000
Aadam Daya -- 11,050,000