Event #31: $1,500 H.O.R.S.E.
Day: 3
Event #31: $1,500 H.O.R.S.E.
Day 3 Completed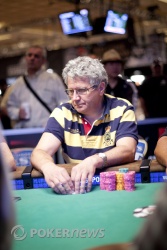 After another marathon Day 3 in the Amazon Room, Konstantin Puchkov has sent the spectators home for the night, winning the bracelet in Event #31 in one lonely corner of the otherwise empty room. This $1,500 H.O.R.S.E. event began with a pack of 827 runners on Wednesday, and it finally culminated with a Russian victory tonight -- fittingly enough, by a man who drives horses with names like "Royal Fush" and "Freeroll" back home.
The final day of the tournament began with 24 players still with a shot at kissing the bracelet, but the early knockouts came fast. Jon "PearlJammer" Turner, Cliff "JohnnyBax" Josephy, Johannes Steindl, Allen Kessler, and Chip Jett were all deprived of a final table berth, and it took just a couple hours of action to set our final table of eight.
After that quick trip down to eight, the rest of the battle became arduous and tiring. It took about six hours to play down to a heads-up pairing between Puchkov and Al Barbieri, and another three and a half hours of heads-up dueling to crown a champion.
Barbieri and Puchkov exchanged body blows for round after round of poker, and Barbieri nearly had his first bracelet in his grips in the early stages of the fight. Puchkov hung tough, though, and, long after the clock had struck five, he finally took "Sugar Bear"'s final chip, ending the tournament as the last man standing.
So then, congratulations to Konstantin Puchkov and his Russian pals for their bracelet here tonight.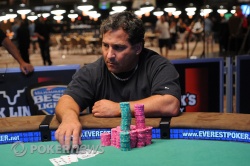 Stud 8/b
Barbieri:
/
/

Puchkov:
/
/
The end came swiftly and brutally for Al "Sugar Bear" Barbieri. Down to fewer than 600,000 chips, Barbieri had only one good hand left in his stack. In the stud split round still, Konstantin Puchkov caught the bring-in and decided to complete in his own right. Barbieri raised, and Puchkov made the call.
Fourth street paired Puchkov. He checked to Barbieri, who bet. Puchkov called and then checked again on fifth street. Barbieri bet, leaving himself 150,000 behind. Puchkov raised him all in, taking the players to their first all in after three-and-a-half hours of heads-up play. Barbieri saw that he was behind, a pair of fours up against sevens and deuces, but he had some chances to make something happen. All of those chances vanished on sixth street, where Barbieri bricked and Puchkov made deuces full of sevens. Barbieri, with no low draw, was drawing dead.
Barbieri played with pluck for three days. His reward is a runner-up finish and $158,647 in prize money.
Stud 8/b
Konstantin Puchkov brought it in with the
showing, and he called a completion from the
of Barbieri.
Puchkov: (X) (X) /
/ (X)
Barbieri: (X) (X) /
/ (X)
Puchkov had the lead the whole way, and he check-called bets on fourth, fifth, and sixth streets. On seventh, Puchkov finally led out with his own bet, and Barbieri called.
Puchkov exposed his down cards:
"Queens up?" Barbieri asked. "It's good." With that, he sent his cards into the muck. That loss sets him all the way back under 600,000.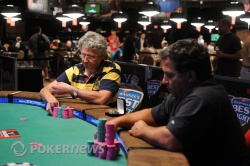 Stud
Konstantin Puchkov brought it in with the
, and he called the completion from Al Barbieri's
.
Puchkov: (X) (X) /
/ (X)
Barbieri: (X) (X) /
/ (X)
On fourth street, Barbieri bet his lead, and Puchkov called. Puchkov checked when he pulled the ace on fifth street, and he called another Barbieri bet. Puchkov paired on sixth street, and he took a long look at Barbieri's board before leading out with a bet. Now it was Barbieri calling, and he was faced with one more bet on seventh street.
"Crying call," Barbieri said, splashing the call into the pot. When he saw Puchkov's
opened up, he said, "Good hand," and folded under.
Level: 30
Blinds: /
Ante: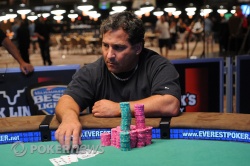 Hold'em
When heads-up play first started, Al Barbieri turned the screws on Konstantin Puchkov in hold'em. He's repeating that early success now. The two biggest hands occurred back-to-back.
In the first, Barbieri raised the button and was called by Puchkov. Puchkov check-called bets on the
flop and the
turn. Both players checked the
river. Barbieri showed
, which was enough to win the pot.
The next hand it was Puchkov's button, but that didn't stop Barbieri from turning an inside straight with
on a board of
. Barbieri bet the river dark and was called. His straight was good.
The only two hands Barbieri lost in the recent hold'em round were two hands in which he gave Puchkov a walk. His stack is all the way back to about 1.5 million.
Stud 8/b
Barbieri: (X) (X) /
/ (X)
Puchkov: (X) (X) /
/ (X)
Al Barbieri caught the bring in, then raised after Konstantin Puchkov completed. Puchkov called the raise, then either check-called or called every street until the river. At that point, Puchkov had the betting lead and fired a bet into Barbieri for the first time. Barbieri called, but had no low and couldn't beat the two pair, aces and fours, that Puchkov made with
.
"Brutal," said Barbieri, as he slipped to 400,000.