Event #45: $1,500 No-Limit Hold'em
Day: 3
Event #45: $1,500 No-Limit Hold'em
Day 3 Completed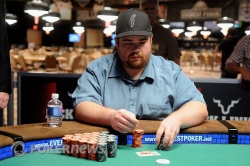 Coming back for Day 2 with 35, we knew the journey could be long, and your blogging team were taking bets on the under/over for a 4am finish. But, with just two minutes to spare, we eventually unearthed a winner, an elated Jesse Rockowitz who toppled a tough opponent in Raymond Coburn to overcome what was an epic final table.
Prior to the heads-up battle, the arena was buzzing with the ever-vocal Brazilian contingent supporting their hero as if he were the second coming. However, when he crashed out in third, the chanting and singing came to an abrupt end, and the mood suddenly became deadly serious: the bracelet was brought to the table, and our two remaining Trojans were just one spot away from topping a 3,097-thick field.
Cooler than the Fonzie in a fridge freezer, Rockowitz remained composed throughout, and battled ferociously to come back from a chip deficit to, first, double through, and then, several hands later, drop the hammer with
to claim victory. Without doubt, this was a tough, hard-fought out victory that would have aged any man, but it was all worth it as Rockowitz goes home with some new jewelry and the small matter of the $721,373 first prize.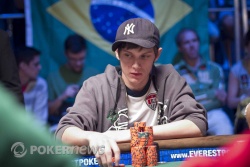 Raymond Coburn limped in with the button and Jesse Rockowitz checked his option.
The flop fell
and Rockowitz led for 95,000. Coburn raised to 500,000, Rockowitz re-raised to 1,360,000 and Coburn called.
The turn brought the
and Rockowitz led again - this time for 945,000. Coburn announced all in and Rockowitz shot up from his chair. Rockowitz asked for the dealer to pull the bet in and stood in silence mulling the decision over. Nobody made a sound during the tank.
Finally, Rockowitz called and nearly everyone in the area rushed to the table to get a look at the hands:
Showdown
Coburn:

Rockowitz:
One must have a five or a ten to make any straight in poker, and those were the only two cards that could keep Coburn alive. The
on the river was a big, fat brick though and Coburn was eliminated in 2nd place.
Coburn played valiantly throughout the entire tournament, and for his efforts he will receive $446,274.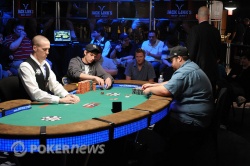 After a tentative sparring period, we encountered our first all-in (and call) of this heads-up battle.
It was Jesse Rockowitz who lit the first spark, opening from the button with a raise to 320,000. Raymond Coburn made the call.
Fireworks on the
flop as Coburn check-raised Rockowitz's continuation bet of 315,000 to a cool million. Rockowitz announced all-in and, with a shrug of the shoulders, Coburn made the call.
Coburn:

Rockowitz:
Despite the threat of a split, the
turn and
river were both safe cards and Rockowitz doubled up. As a result, stacks are virtually back up to even.
It's been rather slow during heads up play, but many of our friends on the rail just jumped for joy (literally) when Vivek Rajkumar entered the final table area.
"Vivek's here!" Clayton Newman shouted when he saw him.
Apparently, everybody loves Mr. Rajkumar.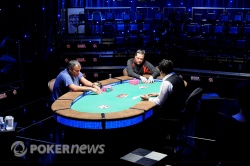 Jesse Rockowitz has taken three small pots in a row from Raymond Cobrum, but is still behind with only 4,300,000 chips.
Level: 31
Blinds: 80,000/160,000
Ante: 20,000