Event #51: $3,000 Triple Chance No-Limit Hold'em
Day: 3
Event #51: $3,000 Triple Chance No-Limit Hold'em
Day 3 Completed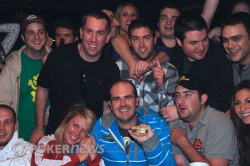 Event #51 began on Tuesday with 965 players taking to the felt for this $3,000 Triple Chance No-Limit Hold'em event. Just before the stroke of midnight local time three days later, Ryan Welch has finally collected every chip in play, climbing to the top of the score sheet to take home his first gold bracelet and more than a half-million dollars in cash.
It certainly was no simple feat for Welch, and after two full days of battling, he still had 11 tough players to face coming into this third and final day. Beginning play fifth in chips, Welch picked his spots carefully as sharks like Tad Jurgens (9th place), Tommy Vedes (7th Place), and Will Failla (4th Place) were run out of the pool.
Finally, about two hours ago, Welch got himself heads up with Jon Eaton for the title, facing about a 1.5-1 chip deficit. Our two online grinders rocked each other with big body-punching pots back and forth, and the lead was changing hands with nearly every pot. With the chips flying around the felt, it wasn't long before Welch found himself comfortably out in front. He even had Eaton down to his final river card during one hand in the last level, but Eaton caught his out card to double up and bring the match back to all square.
It took about another hour of jabbing back and forth for Welch to finally close out Eaton. The two men were virtually even in chips when the final hand began, and a big river shove from Welch got the rest of Eaton's stack into the pot just slightly covered.
When Welch flipped over the nuts, he shot out of his chair and into the arms of his wife on the rail, and that brought out the lights and the tape recorders for the winner photos and interviews.
Today, the doors of the Rio opened with just six bracelets still on display in the big case on stage, and that number has now been reduced by one as Ryan Welch has had his name engraved on one of those treasured pieces of jewelry. We send our congratulations to him on his win here tonight, and you can do the same over on his PokerNews blog.
We're all done here for tonight, and it's time to head to the bar and have a toast to our new champion. Until tomorrow, all that's left is goodnight!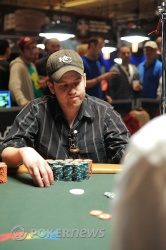 It was an anti-climactic ending for Jon Eaton.
On the final hand of the tournament, Ryan Welch raised pre-flop and Eaton called. Both players checked the
flop. When the turn came
, Eaton tried a bet of 225,000. Welch called.
The river was the
. Eaton fired out for 525,000, then was faced ith a tough decision when Welch pushed all in. The amount of the bet wasn't counted down but it was definitely in excess of 3.0 million, a massive over-bet given the roughly 1.9 million in the pot (including Welch's call of the initial 525,000).
Eaton tanked for several minutes. We could see him mouth the words, "Queen-jack?" but he was clearly unsure what to do. Normally when players take that long to make a decision, they fold, but not this time. After about two minutes Eaton called. Welch was instantly out of his chair to turn over
for the nuts, a king-high straight.
It took a few minutes to count down the stacks and to determine, definitively, that Welch was the winner. The rail waited anxiously, and once the tournament director announced that Eaton was eliminated, Welch's new wife Kristin came running into the feature table area to give Welch a big hug and a kiss.
A dejected Eaton will leave with $344,830.
It's a busy night inside the Rio, and our final table is buried over here in the Orange section of the Amazon Room. It's the only final table in play today, though, and these two players are pretty well liked amongst their poker circles.
Those two factors are evidenced by the sizable (and rather boisterous) cheering section that has assembled itself along the L-shaped rail surrounding the table. Kevin MacPhee, Richard Grace, Matt Stout, Alex Bolotin, Chris Moorman, Carter King, Billy Kopp, and Welch's dashing (and dancing) wife Kristin have all been spotted bouncing back and forth around the outskirts of the featured table here.
Also, it's worth noting that Ryan keeps a blog here on PokerNews, and you can check out what he had to say heading into today's Day 3 right here.
Level: 28
Blinds: 40,000/80,000
Ante: 10,000
Ryan Welch, after being so close to a bracelet earlier, is back to grinding it out. He called a raise from Jon Eaton and took a flop of
. Welch checked, then called a bet of 160,000 from Eaton. When the turn came
, Welch checked and folded to a bet of 335,000.
We feel like we've seen a similar line before. Jon Eaton raised the button and was called by Ryan Welch. Welch chek-calld another bet on an all-small, paired flop of
. When the turn came
, Welch led out for 250,000. Eaton called to the
river. That's where Welch made a slight over-bet, betting 1.5 million into a pot that had about 1.2 million in it. Eaton tanked for about two minutes before finally giving his cards one last peek and then tossing them into the muck.
Welch has the chip lead again.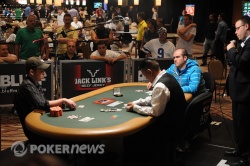 Wow! Despite the fact that Ryan Welch had been building a lead, we weren't expecting an all-in quite so soon. But a series of pre-flop raises (and quick ones at that) led to an all-in from Jon Eaton and a call from Welch. Welch's
was behind Eaton's
, but not by a whole lot. Anything could happen on the board, and did it ever. A flop of
gave Welch a pair of queens, but also made a double inside straight draw for Eaton. Eaton could improve to the best hand with any ace, nine or king. He picked up even more outs when the turn came
to give him the nut flush draw. Would the river blank out?
No it would not. The river came
to fill Eaton's straight. He doubled up from 2,275,000 to about 4.55 million, making the stacks almost dead level again.