Ryan Welch Wins His First Bracelet! ($559,371)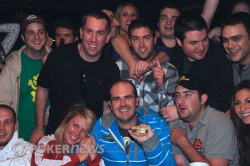 Event #51 began on Tuesday with 965 players taking to the felt for this $3,000 Triple Chance No-Limit Hold'em event. Just before the stroke of midnight local time three days later, Ryan Welch has finally collected every chip in play, climbing to the top of the score sheet to take home his first gold bracelet and more than a half-million dollars in cash.
It certainly was no simple feat for Welch, and after two full days of battling, he still had 11 tough players to face coming into this third and final day. Beginning play fifth in chips, Welch picked his spots carefully as sharks like Tad Jurgens (9th place), Tommy Vedes (7th Place), and Will Failla (4th Place) were run out of the pool.
Finally, about two hours ago, Welch got himself heads up with Jon Eaton for the title, facing about a 1.5-1 chip deficit. Our two online grinders rocked each other with big body-punching pots back and forth, and the lead was changing hands with nearly every pot. With the chips flying around the felt, it wasn't long before Welch found himself comfortably out in front. He even had Eaton down to his final river card during one hand in the last level, but Eaton caught his out card to double up and bring the match back to all square.
It took about another hour of jabbing back and forth for Welch to finally close out Eaton. The two men were virtually even in chips when the final hand began, and a big river shove from Welch got the rest of Eaton's stack into the pot just slightly covered.
When Welch flipped over the nuts, he shot out of his chair and into the arms of his wife on the rail, and that brought out the lights and the tape recorders for the winner photos and interviews.
Today, the doors of the Rio opened with just six bracelets still on display in the big case on stage, and that number has now been reduced by one as Ryan Welch has had his name engraved on one of those treasured pieces of jewelry. We send our congratulations to him on his win here tonight, and you can do the same over on his PokerNews blog.
We're all done here for tonight, and it's time to head to the bar and have a toast to our new champion. Until tomorrow, all that's left is goodnight!