Pimlott Picking Up Where He Left Off
Level 8 : 200-400, 50 ante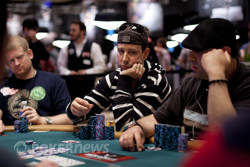 We caught up with Bryan Pimlott as he continued to crush the competition. Pimlott, a tournament grinder who made a deep run to finish 13th in this year's $1,500 Limit Hold'Em event, had taken a flop of
against one opponent.
The other player fired a bet of 1,450 at Pimlott, who paused for a few seconds before making the call. The dealer turned the
and this time Pimlott's opponent opted to check. Picking up on this weakness, Pimlott stared his man down before betting 2,700 chips. The opponent quickly mucked his cards and Pimlott grew his stack to approximately 48,000.