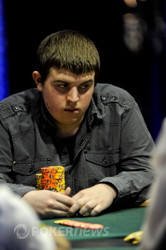 Other than a three way checked down pot on a board of a
that was won by Andrew Badecker's
, the other three pots have all gone to Jon Spinks.
He called a 40,000 raise from Erik Cajelais and bet 53,000 to win the pot when Cajelais checked the
flop.
Spinks followed this up by raising to 42,000 and then moving all in when Dan Kelly made it 108,000 in the small blind, eliciting a snap-fold from the youngster.
Finally Spinks opened from UTG+1 to 42,000 and Cajelais called in the big blind only for the latter to check-fold when Spinks bet 54,000 on the
flop.