Event #16: $10,000 2-7 Draw Lowball Championship (No-Limit)
Day: 1
Event #16: $10,000 2-7 Draw Lowball Championship (No-Limit)
Day 1 Completed

Player
Chips
Progress

Vincent Musso

106,200

Shaun Deeb

92,900

Vladimir Shchemelev

90,400

Nikolay Evdakov

88,500

Jennifer Harman

83,700

Alex Balandin

82,900

Joe Cassidy

80,400

Dan Shak

77,700

Nick Schulman

73,200

Brandon Cantu

72,200

Tom Schneider

71,600

Phil Hellmuth

68,200

David "Bakes" Baker

68,200

Scott Seiver

64,900

David Williams

64,000

Benjamin Parker

63,200

Huck Seed

62,200

Michael Wattel

59,100

Chino Rheem

58,900

Alessio Isaia

58,500

Peter Gould

58,100

Eli Elezra

57,200

Hasan Habib

57,200

Richard Ashby

57,000

David Ulliott

56,500
Level 8 : 400/800, 200 ante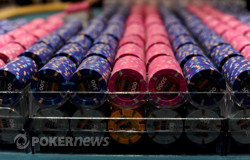 After eight hours of play, Vince Musso is the chip leader of Event #16: $10,000 2-7 Draw Lowball Championship with 106,200. Biting at his heels are a few very strong players though - Shaun Deeb (104,000), Nick Schulman (87,000), and Joe Cassidy (85,000) all had solid days.
After four hours of late registration, the final number of entrants for Event #16 was 126 - which is 25 more players than last year. The field attracted some of the biggest names in poker, including the three double-digit WSOP bracelet winners Phil Hellmuth (68,200), Doyle Brunson, and Johnny Chan, last year's winner of this event David "Bakes" Baker (68,200), and a plethora of other established pro's.
Unfortunately, Brunson didn't make it through the day, and neither did Eric Cloutier - the runner-up from last year. Chris Oliver, Tom "durrrr" Dwan, Jean-Robert Bellande, Phil Laak, Justin Smith and Justin Bonomo also failed to advance to Day 2.
Some notables who did advance include David "Devilfish" Ulliot (56,500), Greg Raymer (22,300), Eugene Katchalov (40,900), and Joseph Cheung (31,600).
The action resumes tomorrow at 3 p.m. PT, where we will play ten levels. Make sure to check back, but until then, goodnight from the Rio!
Level 8 : 400/800, 200 ante
Day 1 is just a memory now as the chip bags come out and the survivors get to give the WSOP their John Hancock. We'll be right back with our closing arguments.
Level 8 : 400/800, 200 ante
Dan O'Brien raised to 2,100 from the hijack seat, and Richard "Chufty" Ashby called next door. In the small blind, Daniel Negreanu squeezed in a reraise to 6,600. The big blind proceeded to reraise to 17,500, and that folded O'Brien. Ashby, though, reraised all in for 23,450 total. Negreanu folded, the big blind called, and Ashby was at risk.
Both players stood pat, and Ashby's
was the best. His opponent flashed
, paying off his debt to double Ashby up close to 60,000.
Level 8 : 400/800, 200 ante
Mike Watson was all in for 13,550 before the draw, and Carlos reraised, isolating himself against the at-risk "SirWatts" with a chance at the knockout.
Both players took one card, and Watson showed
...
. Not a good draw. Fortunately, Mortensen's was even worse as he showed
...
. An ace beats a pair of fives, and Watson has doubled back to his starting stack. It knocks Mortensen down to about 19,000 in the process.
Level 8 : 400/800, 200 ante
A player in early position opened to 2,400, and a second unfamiliar player called next door. Across the table, Matt Perrins grabbed his last 8,650 chips and plunked them into the pot, and both opponents called to put him at risk.
Everyone took one card, and Perrins'
was good for the triple. He's back to 28,550 and almost back to his starting stack.
When we reached the table, Doyle Brunson was all in against Phil Hellmuth and the two had already drawn. Texas Dolly tabled
for a ninety-six, and Hellmuth gave a mini-speech before mucking the worst hand.
"You get it in with the worst against me all the time on television," Hellmuth complained. "I told myself the next time he moves in, I'm calling."
Hellmuth did, and he's lost chips because of it.
Player
Chips
Progress

Phil Hellmuth

65,000

-17,009

Doyle Brunson

40,000

11,000
Player
Chips
Progress

Shaun Deeb

92,000

Nick Schulman

90,000

Jennifer Harman

75,000

70,000

Carlos Mortensen

65,000

David Baker

52,000

51,000

David Williams

49,000

48,000

47,000

43,000

39,000

Josh Brikis

38,000

31,000

30,000

26,000

Michael Mizrachi

25,000

Mike Matusow

20,000
Level: 8
Blinds: 400/800
Ante: 200