Level:

7
Blinds:

6,000/12,000
Ante:

0
That's enough poker for now. The players have been sent off for a 15-minute break.
Steve Frezer came back from viewing the tapes, and he told the two player what he saw. As it turns out, it was a dealer error that occurred (long story short) because Billirakis sat out for a minute or so. Both men were given their 200,000 in green chips, but Billirakis' stack was broken in half and divided again for some reason. So Billirakis got quartered, basically.
The staff took the 100,000 chips back from Marafioti's stack and put it in Billirakis', but things still weren't right. On the one hand they played, Billirakis' stole the blind for 8,000, but he only had 403,000 chips in his stack after the recount. That error was corrected as well, and it's now officially 408,000 to 792,000 in favor of Marafioti.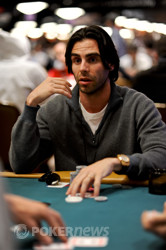 After hovering near 100,000 chips for about ten hands, Olivier Busquet decided to make his stand with
. Yevgeniy Timoshenko made the call with
and the two were off to the races. A flop of
was a pleasant sight for Busquet, as Timoshenko went from eight live outs to only six. The
on the turn was no help to Timoshenko and the
on the river sealed the win for Busquet, who now has approximately 340,000 chips.
Level:

6
Blinds:

5,000/10,000
Ante:

0
There's a bit of a problem in the Billirakis/Marafioti match right now.
Billirakis ran through his first 200,000 chips, and he cashed in both of his lammers to add on the other 400,000 chips. Matt Marafioti elected to do the same thing, and now both men are out of second (and third) chances. A problem, though. The two men proceeded to play one hand following the add-on, and Billirakis suddenly noticed he had just 300,000 chips in front of him. The floor was called, and neither of the two men could settle on a solution.
Two members of the floor staff, including Steve Frezer had a quick meeting about the situation, and Billirakis eventually stepped in to offer his side of the story. We didn't want to get unnaturally close to the conversation, but we could see Billirakis gesuring and shrugging with both palms up in confusion.
During this encounter, Matt Marafioti has been sitting quietly by himself for the most part. We heard him say something about the issue not being his fault, but it's most certainly going to be sorted out before they continue.
It looks like Frezer is over there counting the stacks right now, and he's already told Billirakis he'll check the tapes. Their match has been paused, and they'll be on a separate time clock once the issue is sorted.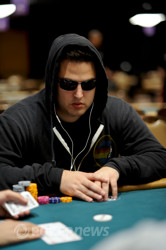 With the board reading
, Kunimaro Kojo made a huge bet of nearly 200,000 chips. Paredes contemplated his decision for a few moments before announcing a call. Kojo was clearly disappointed in this development and showed
for a busted open-ended straight draw. Paredes proudly flipped his
for middle pair and an astonishing call, vaulting him to a 2:1 chip lead.
Level:

5
Blinds:

4,000/8,000
Ante:

0
With 32,000 in the pot and the flop reading
, Tom Dwan bet 24,000 and Hansen shoved all-in. Dwan called for his remaining chips and showed
for an open-ended straight draw. Hansen flipped over the
for top pair. Dwan needed to spike an eight, queen or king to take the lead, but the turn of
was a brick. The river came
and Hansen survived, forcing Dwan to cash in a 200,000 add-on and attempt yet another comeback.
There was about 75,000 in the pot when we walked up to see a
flop. Richard Lyndaker was likely the preflop three-bettor, and he led out with 32,500 more chips. Anthony Guetti didn't waste much time raising to 87,000, and Lyndaker shoved all in with his covering stack. Guetti quickly made the call for 287,300 with his
still drawing, and Lyndaker's
had his opponent in a worse spot that he'd hoped.
The turn
was a blank, but the river
was just the out Guetti was looking for. A frustrated Lyndaker shot out of his chair and spun around in frustration. He was just one card away from advancing into the Elite Eight, but the open-ender has struck him down. After counting out his debt, his stack has fallen below starting to about 550,000 as Guetti takes a slight lead.