McLaughlin Doubles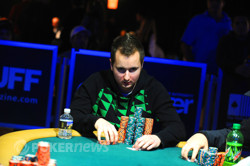 ...three times!
In the first hand, Kirk Caldwell forced Marc McLaughlin all in, and he snapped it off.
Caldwell:

McLaughlin:
There wasn't even a sweat as the board ran
, doubling McLaughlin to 540,000 chips.
The very next hand, Caldwell was in the small blind and raised to 275,000. McLaughlin moved all in, and Caldwell called.
Caldwell:

McLaughlin:
Caldwell flopped a sick sweat -
. The
on the turn was a brick though, and so too was the
on the river. McLaughlin was now up above a million.
McLaughlin's next double came when he shoved from the small blind. Ben White instantly called with the
, and McLaughlin needed help for the first time, holding a very modest
.
The
snuck right through the window though, and was followed by two tens -
. The turn and river came
,
, and just like that, McLaughlin was back over 2 million chips.
Player
Chips
Progress

Kirk Caldwell

8,250,000

-700,000

Ben White

2,550,000

-600,000

Marc Mclaughlin

2,410,000

2,160,000