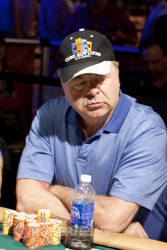 William Davis has just found himself on the wrong end of a cold-deck to bust out of this tournament in fourth place, good for $64,625.
John Myung raised from early position and Harrison Wilder reraised from next door before Davis four-bet it with
. Thomas Jamieson got out of the way, so it was three-handed to the flop of
. Wilder checked, Davis bet and Myung called before Harrison check-raised. Both Davis and Myung called, so it was off to the turn of the
.
This time, Wilder led out and Davis was the only caller, making it heads-up to the river of the
, where Wilder called Davis' raise-all-in after he led out.
Davis showed
, but had been outdrawn by Wilder's
and as a result, we are now down to our final three!