Heads Up So Far
Level 21 : 6,000/12,000, 3,000 ante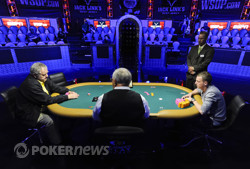 The heads up so far has seen both player stick with min-raising from button and occasionally giving each other walks. There have only been three draws so far.
In the first Bjorin called a Perrins raise and both drew two. It went check-check and Bjorin's
was good as Perrins revealed he had drawn a pair of aces.
In the second Bjorin called another Perrins raise, the Englishman stood pat, and Bjorin drew two before they both checked again. Perrins showed
for the pot.
Finally, in the biggest pot so far, Bjorin raised to 24,000 and Matt Perrins reraised to 62,000. Bjorin made the call, Perrins drew two and Bjorin just one, Perrins checked and Bjorin quickly fired out 75,000. Perrins looked as though he was going to make the call but after a minute or so thinking, he opted to muck his hand instead.