Chan Gets Revenge, Farha Denied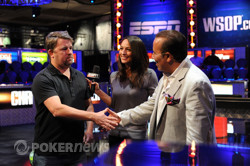 Today, two players had their shot at redemption and revenge. To go back to a moment where they were on the brink of immortality and grasp the chance they had missed years ago. Both "challengers" have had long, successful careers as a professional poker player and their loss did little to hurt their reputation. But having a chance to relive a memory that draws the envy of millions, regardless of anything else, is something that never happens in real life... except today.
Johnny Chan and Sammy Farha were given the chance to face off against the men that beat them for a WSOP Main Event gold bracelet. And while Chan has two already, the one he lost is probably more famous than the ones he won. Farha, on the other hand, never claimed a Main Event title for himself and this was his chance to regain some pride and take down the amateur that took away his bracelet.
First up was Johnny Chan and Phil Hellmuth Jr. In 1989 Chan was vying for his third WSOP Main Event title in a row; something that had never been done before, hasn't been done since, and given the current climate of poker is a statistical impossibility to ever happen in the future. Hellmuth, with the win, set the record as the youngest Main Event winner in history at the time. It was just his first of 11 bracelets which gives him the all time lead by one... over, you guessed it, Johnny Chan (and Doyle Brunson). Had the fortunes been reversed in 1989, it would be Chan that has a one bracelet lead, not Hellmuth. It's safe to say this duel would be recreating one of the most important heads up battles in the history of poker, and it did not disappoint.
Chan took it to Hellmuth early and never let him get any momentum. Any time Hellmuth scooped a pot, it would be small and Chan would win the next one. Hellmuth had to survive multiple all ins, some from behind just to stay alive. Finally he was able to get some breathing room when the two players got it all in and Hellmuth's
held against the
of Chan. However, that would be his high point. A few hands later, Chan returned the favor by hitting a 7 outter on the river to double back up and cripple Hellmuth. Unable to recover, Hellmuth busted and Chan got the revenge he had been waiting 22 years to deliver.
If the first match of the day recreated one of the most important battles of all time, the second recreated the most important. When Chris Moneymaker won $2.5 million in 2003, the poker world exploded and it brought a light on this sport that it had never before seen. Had the result been different, the entire poker world as we know it would surely not be the same. Moneymaker is now a household name and Farha's most notable memory to date is that second place finish.
This grudge battle wouldn't take just one match, however. The two agreed to play a best a 3 series; the first would start with the same chip stacks the two had eight years ago, the second would reverse the chip stacks and if a third match was necessary, they would start dead even in chips. The first match didn't go as well as Farha had hoped. He never gained the chip lead and his
went down against
of Moneymaker. The second saw both players take leads at points in the match but Farha got Moneymaker back when his
got there against Moneymaker's
after a
flop.
The third and final match would prove to be intense. The players, realizing the importance of the moment, began playing much more aggressively, looking to take any chip they could away from their opponent. Ultimately, it would be Moneymaker with the last laugh. On a
flop the two players got it all in and Moneymakers Jacks and Deuces were well behind the Jacks and Tens of Farha. It would have been a fitting way to extract revenge for Farha, who lost the bracelet with that very hand, Jack-Ten. But it was not to be. The river was another deuce and Moneymaker doubled. A few hands later, Moneymaker finished him off and denied him of the redemption he had been seeking.
There is still one match left. Johnny Chan will once again face off in a grudge match but this time he will be tasked with defending his title. His challenger, Erik Seidel, is still deep in the $1500 Limit Omaha 8 or Better tournament right now so we will update you as soon as we know when that match is scheduled. If it his half as exciting as the first two were, you won't want to miss it!