Jonanthan Cohen Eliminated in 2nd Place ($192,559)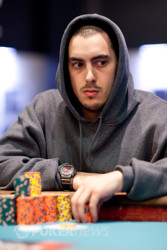 It all came to an end in dramatic fashion. There was a semi-bluff all-in, a great call and...
Jon Cohen opened the pot to 90,000 and Brendan Schaefer called to see a
flop appear. Schaefer check-called a 105,000 bet to head to the
turn where he faced a 230,000 bet.
His response was to check-raise all-in. Cohen stood up out if his chair and this caused the rail to pile forward. He hadn't called yet though but that came 30 seconds later. He had 1,800,000 chips when he called all-in.
Schaefer:
for a an open ended straight draw.
Cohen:
for top pair.
The river came
to complete Schaefer's straight. He stood there staring at the board and there was an eery silence that seemed to last for a minute but was more like three seconds. The silence was interrupted by the floor man who confirmed Schaefer the victor. Half the rail wet crazy, half consoled their broken man.
A big congratulations go to Cohen who played a major part in making this a great final table.