Pizza Time!
Level 30 : 80,000-160,000, 20,000 ante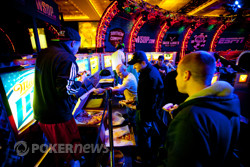 About an hour ago, we heard the rail shouting about pizza. The Poker Kitchen has been closed for a few hours now, so we didn't know what they were talking about - we just assumed that they were becoming a little loopy as the hours passed.
That's until a pizza delivery man came bounding into the deserted Amazon Room with five pies in his arms. The entire rail swarmed the pizza boxes, and the essence of cheese, pepperoni, and tomato sauce is now lingering in the air.
The rail is now a bit chippier than before, but it's still very late, and the food will only fuel them for so long.