Oleksii Kovalchuk Eliminates Chino Rheem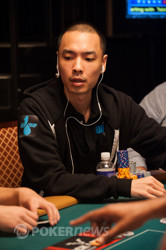 We just told you that the Chino Rheem juggernaut had lost a wheel, now we can report that it has just plain ran out of gas. World Series of Poker (WSOP) bracelet winner Oleksii Kovalchuk opened to 17,000 in the cutoff, Chino Rheem made it 77,000 from the button, Kovalchuk bet raised the pot as did Rheem and we were all-in.
Just like the Brett Richey hand, Chino Rheem was light years ahead. That was until the flop -
. An absolute distaster for Rheem and the
and
are no good either and the poor unfortunate Rheem is out!