Chiu Gets Two-Thirds of a Big One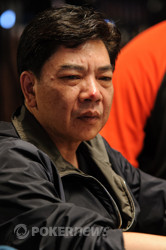 Omaha Hi/Lo:
Jason Brown limped in from early position, and Ylon Schwartz raised from the button. David Chiu called the extra bet from the big blind, and Brown came along for a three-way flop.
The dealer spread out
, and Chiu led right out with a bet. Follow this action. Brown called, Schwartz raised, Chiu reraised, and Brown cold-called. Schwartz raised again, though, and now Chiu and Brown flatted with four bets in apiece. The pot was getting serious.
The
paired the board on the turn, and now the table checked around to Schwartz. He bet, Chiu check-raised, Brown cold-called again, and Schwartz flatted. The latter was getting less and less thrilled with the situation as the hand progressed.
Chiu bet the
river, and both opponents called. The hands, please.
Showdown
Chiu:
(straight and nut low)
Brown:
(nut low)
Schwartz:
(nut low)
Schwartz's busted flush draw cost him a huge pot, and he and Brown can only manage to get 1/6th of it apiece. The lion's share goes to Chiu, and he's worked himself all the way back up to 300,000.