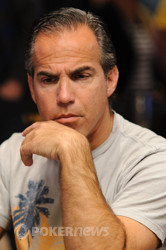 Omaha Hi/Lo:
Action folded to Allen Cunningham in the cutoff and he raised, which Robby Rasmussen three-bet from the cutoff. The button and small blind got out of the way, while a short-stacked Cliff Josephy opted to commit his stack from the big.
The
flop saw Cunningham check-call and bet before both active players checked the
turn. Cunningham then put out a bet on the
river, which Rasmussen called.
"Wheel," Cunningham said as he rolled over
.
"Payout," Josephy responded as both he and Rssmussen mucked. Since it was an all-in situation, the dealer had to expose the former's
and the latter's
.
JohnnyBaxPoker Cliff Josephy Redrew right into the BB of O8. Never had a chance. Busted 16th. Back for the Main. June 15 2012