Zimnan Ziyard Eliminated in 12th Place ($13,405)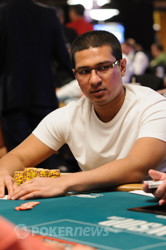 It's the end of a long and perilous road for Zimnan Ziyard. He's just been eliminated in 12th place after three days of roller-coaster poker in which he was down under 1 big bet or less several times.
Hold'em:
His final hand began with him open-raising his last 31,000 into the middle under the gun. David Rogers and Ylon Schwartz (big blind) came along with him, and they checked to the river on the
board as Ziyard stood up in between them sweating his fate. On the river, Rogers made a bet, and Ziyard figured that might not be good news. When Schwartz folded, Rogers tabled
for two pair.
Ziyard rolled over his
— good, but second best by the river. He has been eliminated in 12th place, but he received a nice parting compliment from Ylon Schwartz.
"Great player," Schwartz acknowledged. "You'll make a lot of money."
This one's not really "a lot of money" for Ziyard, but the $13,000+ he'll pocket is a respectable consolation prize for his run.