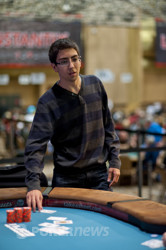 Stud:
Elior Sion completed with the
only to have Robby Rasmussen raise with the
. Sion made the call and then led out on the turn. Rasmussen made the call and then raised Scion's bet on fifth street. Sion then three-bet his last 90,000 and Rasmussen made the call.
Sion:
/
/

Rasmussen:
/
/
Rasmussen turned two pair and was in the lead, but Sion held kings and had plenty of outs. Unfortunately for him, none would be delivered and he was felled in fifth place for $55,422.