Of Course Duhamel's Through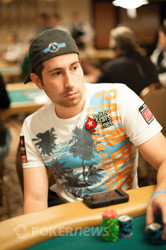 "Of course I'm through," said a confident and slightly jesting Jonathan Duhamel.
The Team PokerStars Pro told us that his opponent (Noah Boeken) moved all-in for his last 15 big blinds with eight-nine off-suit. Duhamel called with ace-queen and found a match for both of them on the flop.