Second WSOP Event for Ivey

Level 3 : 75/150, 0 ante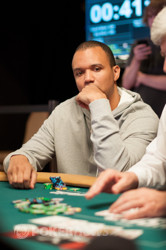 Phil Ivey is back in action at the 2012 World Series of Poker here in Event 3. He's pitted against Aaron Jones in the first round and already busted one of Jones' bullets, as you can read here.
Yesterday, Ivey made his return to the WSOP after last year's hiatus in Event 2. He couldn't get too much going on the day, but here's a couple posts we made with him in that event.
We'll be keeping a close eye on Ivey in this event and hopefully he can generate some momentum to make it to round two.