Event 32: $10,000 H.O.R.S.E.
Day: 3
Event 32: $10,000 H.O.R.S.E.
Day 3 Started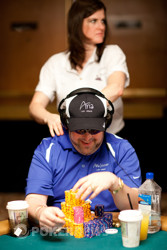 Welcome back ladies and gentlemen, for the final day's coverage of Event 32: $10,000 H.O.R.S.E. By the end of the day we will have a new gold bracelet winner and a champion of one of the most respected poker formats the World Series of Poker has to offer.
Heading into the day with the largest chip stack and recent form that would have most players shaking in their boots is John Monnette. A late surge yesterday saw Monnette amass a stack of 825,000 and with a victory already coming in this year's Event 10: $5,000 Seven Card Stud, Monnette will be one to watch.
If there is one field that perhaps won't be scared of Monnette, it's this one, as some of the most successful poker players in the world will join Monnette to make up the 15 players at the felt today. Trailing Monnette with 645,000 in chips is David Bach. With Bach already holding a WSOP gold bracelet in the $50,000 World Championship H.O.R.S.E event in 2009, Bach can not be overlooked today.
There are some players who return today who simply don't need an introduction, but we will give them a small one anyone. Phil Ivey will be looking to cement is place at the top of the WSOP Player of the Year board, but will have his work cut out for him, starting the day as one of the short stacks. One other Phil will also start the day, albeit with a much healthier chip stack, and that is Phil Hellmuth. Of course Hellmuth recently won his 12th WSOP gold bracelet and will desperately be looking to make it 13 today.
With the likes of David Bakes Baker, Dan Kelly, Brandon Shack-Harris, Scott Clements, Matt Waxman, John Hennigan and Abe Mosseri also still in contention, we have ourselves a very big day of mixed-game action. Here's how they start the day.
Table 445

| Seat | Player | Chip Count |
| --- | --- | --- |
| 1 | Matt Waxman | 458,000 |
| 3 | David Bach | 645,000 |
| 4 | Phil Hellmuth | 571,000 |
| 5 | Scott Clements | 229,000 |
| 6 | Dan Kelly | 243,000 |
| 7 | Abe Mosseri | 384,000 |
| 8 | David "Bakes" Baker | 574,000 |
Table 451

| Seat | Player | Chip Count |
| --- | --- | --- |
| 1 | Andrew Brown | 79,000 |
| 2 | Paul Sokoloff | 157,000 |
| 3 | Brandon Shack-Harris | 500,000 |
| 4 | Ralph Perry | 41,000 |
| 5 | Mori Eskandani | 171,000 |
| 6 | John Monnette | 825,000 |
| 7 | Phil Ivey | 102,000 |
| 8 | John Hennigan | 344,000 |
Will Monnette take his chip lead all the way to winning his second bracelet of the summer? Will this be lucky number 13 for Hellmuth? Can Ivey finally win a bracelet after getting so close just last week? Tune into PokerNews all day long to find out. It kicks off at 2.00 PM, so don't miss it!
Level: 19
Blinds: /
Ante:
Level 19
The players have strolled into their seats and the cards are in the air.
Omaha 8
It took one hand for Ralph Perry to be eliminated from this tournament. It all started when fellow short stack Andrew Brown opened from early position. A couple of spots to his left and Perry would raise it up, leaving himself less than a big bet behind. The rest of the players were out of the way and a flop was dealt.
Flop:
Brown pushed his whole stack in the middle, having Perry covered, and Perry flicked in his last chips.
When the
turn and the
river gave Perry no help, he was sent home in 15th place, while Brown raked in the pot.
Razz
Phil Hellmuth:
/
/
Dan Kelly:
/
/
Abe Mosseri:
/
(FOLDED)
Phil Hellmuth, Dan Kelly and Abe Mosseri all took to fourth street, where Kelly flicked out a bet. Both players called and then Kelly and Mosseri checked on fifth. Hellmuth fired out a bet here and only Kelly called as Mosseri got out of the way. On sixth, Kelly put in a bet and Hellmuth called. Seventh street would see Kelly again bet, and after some thought, Hellmuth made the call.
Kelly tabled his
in the hole, and Hellmuth looked flabbergasted as he mumbled something about "pocket-fives". What was more audible was when he said, "he just did everything wrong," as he mucked his cards and sent the pot to Kelly.
Razz
Phil Ivey:
/
/
John Hennigan:
/
/
Andrew Brown:
/
/
Andrew Brown was all-in during the first round of betting and would watch on while Phil Ivey and John Hennigan played out the hand. On fourth street, Ivey bet and Hennigan called. Fifth street saw Ivey bet, Hennigan raise and Ivey call. Sixth and Ivey would again lead and Hennigan call. On seventh both players checked and Ivey table
for a ninety-eight. That was strong enough to send Hennigan's cards into the muck, while Brown showed
in the hole, enough for a ninety-six to survive. Ivey took down the side pot.
Player
Chips
Progress

David "Bakes" Baker

700,000

126,000

Matt Waxman

560,000

102,000

Phil Hellmuth

520,000

90,000

Dan Kelly

395,000

-15,000

Abe Mosseri

330,000

-54,000

David Bach

200,000

-445,000

Scott Clements

130,000

-99,000
Player
Chips
Progress

John Monnette

870,000

45,000

Phil Ivey

480,000

-40,000

Brandon Shack-Harris

285,000

-215,000

Mori Eskandani

240,000

70,000

Andrew Brown

220,000

-10,000

John Hennigan

80,000

-60,000

Paul Sokoloff

75,000

-82,000
Stud 8
Phil Hellmuth:
/
/
Matt Waxman:
/
/
Abe Mosseri:
/
(FOLDED)
On fourth street, Abe Mosseri bet when he paired his jack. Both Matt Waxman and Phil Hellmuth called. On fifth street, Mosseri opted to check and Waxman fired out a bet. Hellmuth made the call and Mosseri got out of the way. Sixth street saw Waxman again bet and Hellmuth again called. Before Waxman had looked at his seventh card, he fired out a bet.
"Whoa, fired right out, hey?" said Hellmuth as he looked at his opponent.
"When i saw him call with eight-four, i said boy i'm gonna have him in bade shape soon," Hellmuth continued thinking out loud as he made his decision. Eventually he opted to fold and send the pot to Waxman.
Player
Chips
Progress

Matt Waxman

620,000

60,000

Phil Hellmuth

400,000

-120,000