Marsha Waggoner Eliminated in 9th Place ($12,822)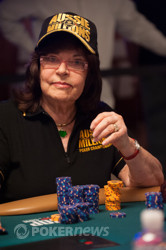 Well, we have just two ladies left. Aussie Marsha Waggoner has just been eliminated at the hands of Yarron Bendor.
Bendor: (x-x) /
/ (x)
Waggoner: (x-x) /
/ (x)
When Bendor bet fifth street, Waggoner raised. Bendor raised again, and the call put the lady all in. She was in trouble, as Bendor had started the hand rolled up.
Bendor:
/
/ (x)
Waggoner:
/
/ (x)
Bendor didn't fill up with his river
, so Waggoner was drawing live to the heart flush. It was her only shot at staying alive, but the river was the wrong shade of red. The
was no use, and she's been eliminated on the final table bubble.