Gregorich Looking Good at Present, Chad's Future in Doubt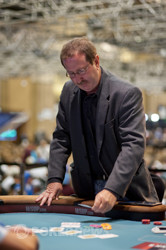 Mark Gregorich completed with the
showing, and Yuval Bronshtein called with the
up. The action on Norman Chad, he checked his cards and looked down for a moment at the
he had up, then at the small stack of 85,000 he had remaining.
Chad then fished a fortune cookie from his pocket, unwrapped it, and while chewing read the rectangular slip of paper to himself. With a wrinkled brow, he shared it with the table.
"Within the week you will receive an unexpected gift," he said, a note of incredulity in his voice. "That's kind of vague," he complained. "Mmm... good cookie, though," he added as he folded.
Bronshtein then check-called bets from Gregorich on the next two streets before both players checked down sixth and seventh.
Gregorich:
/
/

Bronshtein:
/
/

Chad:
/
, a crumpled piece of paper, and some crumbs
Gregorich tabled
, and his sevens were enough as Bronshtein mucked.