George Danzer Eliminated in 2nd Place ($140,825); Oleksii Kovalchuk Wins!

Level 28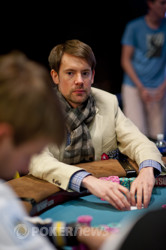 Omaha-8
Danzer battled through the last Stud-8 round gamely, grabbing a few chips back from Okeksii Kovalchuk. But when the game changed back to Omaha-8, two hands swiftly spelled the end of Danzer's Event 42 run.
The first began with a Kovalchuk raise, Danzer three-betting, and Kovalchuk calling. The flop came
. Danzer bet, Kovalchuk raised, and Danzer called. Danzer then check-called both the
turn and
river. Kovalchuk turned over
for nines full of tens, and Danzer mucked, his stack depleted to about 230,000.
Soon after Danzer was raising from the button, Kovalchuk reraising, Danzer putting in four bets, Kovalchuk reraising again, and the German calling with what he had left. The pair both rose from their seats as they turned over their hands.
Danzer:

Kovalchuk:
The flop came
, giving Kovalchuk nines, then the
turn brought him a second pair. Kovalchuk's many supporters were now all standing as well, the noise starting to build in anticipation. No low was possible, and only a ten could snatch the hand away from Kovalchuk to give Danzer a gutshot.
The dealer then burned and turned over the river — the
! The crowd erupted... Kovalchuk had won!
The Ukranian was instantly surrounded by two dozen supporters who soon were lifting him off the ground and tossing him into the air here on the Pavilion stage while Danzer left having come one step shy of the gold.