Biggest Pot of the Tournament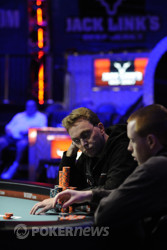 Neil Channing and James Mackey continued their duel and played the biggest pot of the tournament so far. On a flop of
, Channing bet 100,000 and Mackey called.
The turn brought the
, Channing checked and Mackey bet 255,000. Channing took a minute and raised to 715,000. Mackey shuffled his chips in thought and then quietly called.
The river came
and Channing bet 1,325,000. The tension was high in the Mothership as they waited for Mackey's decision. Ultimately, Mackey called after some thought.
Channing tabled
for a full house and Mackey mucked his hand.