Making Moves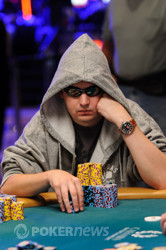 "He took second. I won."
So explained 2009 WSOP Main Event Champion Joe Cada to an opponent while jerking a thumb to his left. Ivan Demidov, runner-up at the 2008 WSOP Main Event, shook his head in acknowledgement from a seat over.
With all of the bustouts, players are moving around rapidly. An interesting group has now been assembled over on Table 431. Besides Cada and Demidov, start-of-day chip leader Tony Welds is there as well, although he's seen his stack cut down considerable as we move through the second level of the day.
It's possible Kevin Elia may have had something to do with Welds' situation, as suggested by the columns of chips sitting front of him. Elia looks to be our leader at the moment with 150 players left.