John D'Agostino Bubbles Event 52: $2,500 10-Game Mix - Six-Handed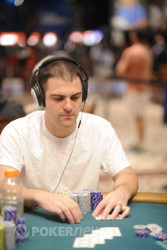 NL 2-7 Single Draw
John D'Agostino moved all in for his last 7,000 chips or so on the button. Mike Gorodinsky called out of the small blind, and the big blind released. The action was then held to allow the other tables to complete their hands.
"Are you drawing?" D'Agostino asked Gorodinsky.
"One," Gorodinsky answered. "You?"
"I can't tell you that yet," D'Agostino responded, grinning.
D'Agostino then admitted he was drawing one as well, and asked Gorodinksy what he had.
"Seven-five-four-two," Gorodinksy admitted.
"F***," D'Agostino blurted. "Give him a seven, dealer."
"Give me three sides!" Gorodinsky pleaded.
Finally, the players were allowed to deal, and both players received jacks. Gorodinksy's
was better than D'Agostino's
however, and he was eliminated.
jdags21 John DAgostino Just stone bubbled the 10 game, so dumb June 30 2012