Amazon Room: Pair of Shulmans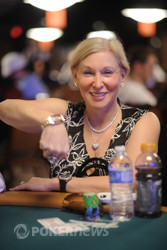 A recent walk around the structured chaos of the Amazon lead us to Barry Shulman's table where we found him mixing it up with an unknown opponent from middle position. The flop read
and Shulman fired out 100. Shulman's opponent in the cut-off countered by raising it to 250. Shulman completed the call and both players were allowed to see the turn.
The
on fourth street brought with it a check from Shulman, and a bet of 300 from the cut-off. Shulman again made the call. A
on the river saw a repeat of action with Shulman checking, and the cut-off betting out 500. Shulman made the call and was in for some good news.
The cut-off flipped over a measily
while Shulman exposed
for a pair of jacks. Jacks were best and Shulman was awarded the pot.
A few tables away from Mr. Shulman, sits Mrs. Shulman. Allyn Jaffrey Shulman sits with around 2,400, but probably should be more feared than her larger stacked husband. Mrs. Shulman has already won a $1,000 event this year, and clearly knows what it takes to win a bracelet. Earlier this year Mrs. Shulman took down Event 29: $1,000 Seniors No-Limit Hold'em Championship.
The field is large and the room is electric, we will see if husband and wife can make a deep run at it today.