Fiery Red Section: De Maci Bashing People up & Antonius Out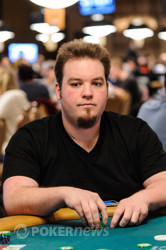 Two main stories from the red section of the Brasilia Room and they both emanate from Table 67. Our first piece of news is a great start for Chris De Maci. It's been a great series for De Maci who picked up $316,308 for his runner-up spot in Event #34: $5,000 Pot-Limit Omaha - Six-Handed. Here he is proving he can play with 2 cards as well as 4.
De Maci opened the betting for 450, 1 opponent three-bet to 1,050 and De Maci made the call. The flop was
and De Maci called a 875 bet from his opponent. The turn card was the
and De Maci's opponent check-raised all-in and De Maci made the call.
So it was a king or nothing for De Maci's opponent and the
was nowhere near regal enough. De Maci moves up to 20,000.
Then a few hands later and we notice Maya Antonius twiddling on her phone as she exited the Brasilia Room. We dashed back to her table and Chris De Maci very kindly furnished us with the following information.
There was a raise to 450 and one caller before Antonius moved all-in for 3825 holding
. The initial raiser folded but the caller made the call holding
(suited). A queen on the flop and then an ace on the river putting an end to the hopes of Mrs Antonius.
Other players loving life in red are Irish Open Champions Kevin Vandersmissen (15k) and Neil Channing (13k), European Poker Tour (EPT) and World Poker Tour (WPT) champion Andrey Pateychuk (17k), the one and only Chris Moorman (17k) and leading the pack Koen de Visscher (25k).
Player
Chips
Progress

Koen De Visscher

25,000

Chris De Maci

20,000

Andrey Pateychuk

17,000

Chris Moorman

17,000

15,300

Kevin Vandersmissen

15,000

Craig MCorkell

14,000

Neil Channing

13,000

Pratyish Buddiga

11,000

Pieter de Korver

9,000

Jon Turner

8,000

200

Faraz Jaka

6,000

1,300

Alexander Dovzhenko

5,000

Byron Kaverman

4,000

Maya Antonius

Busted