Welcome to Day 1 of Event #54: $1,000 No-Limit Hold'em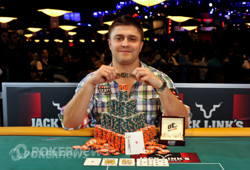 The poker history books are going to be re-written today as forty-eight people take their seats to play in the most expensive game of poker ever created. The buy-in is $1 million and the first prize is $18,346,673 - the biggest prize poker has ever seen.
The World Series of Poker (WSOP) is the only organisation in the world that could make the Big One For One Drop happen and what makes the WSOP so special is it caters for poker players of all shapes and sizes. You have the $1 million buy-ins for the superstars of world poker - and a few whales - and luckily for the rest of us you have the $1,000 buy-ins for the mere mortals and schools of fish.
So keep a watchful eye on the $1 million - and especially the superb PokerNews coverage - but we will be getting down to the bread and butter of the WSOP to bring you coverage of Event #54: $1,000 No-Limit Hold'em. Last year this competition drew in 4,576 players and the eventual winner was a fantastic poker player - Russia's Maxim Lykov.
As players start to pour in in readiness for the Main Event we are expected another bumper field. So expect coverage from the Brasilia, Amazon and Pavlion today.
This will be a 3-day event with Day 1 consisting of eleven-levels of sixty-minutes play. There will be a fifteen-minute break every 2-levels and a ninety-minute dinner break at the end of level-6.
The action starts at 12:00 PM so please join us at PokerNews for all of the action.