Nghi Van Tran is Eliminated in 4th Place ($158,512)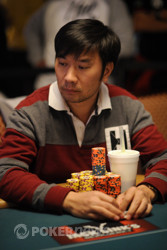 The only reason Nghi Van Tran is not going to win a World Series of Poker (WSOP) bracelet - and it's a pretty good one - has been his inability to win a single flip during this final table.
Joseph Kuether raised to 120,000 in the cutoff, Nghi Van Tran moved all-in on the button, Will Jaffe also moved all-in from the big blind and Kuether folded.
Flop:
The best flop Tran had seen in a long while.
Turn:
There was a collective, "ooh," from the crowd as some of them thought it was a Jack.
River:
The crowd went berserk as the board paired for the second time and Jaffe's ace played. Tran losing yet another flip and he was out in 4th place.