Welcome Back to Day 4 Where a Winner WIll Be Crowned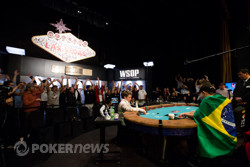 Will Jaffe and Luis Campelo managed to get down to heads up play after 8 levels of play last night. They played one on one for two levels with neither player making a dent in the other's stack. After the tenth level of the night play stopped and both players were sent home for some rest. Today the match starts up again.
Jaffe has been unbelievable steady through out the whole tournament playing big pots and rarely being at risk. Campelo has done much the same playing tight and aggressive for the entirety of the tournament. The crowd has been the most exciting thing of heads up play so far, with the Campelo's Brazilian crowd literally making waves every time Campelo took down a pot. Jaffe's crowd was pretty excitable last night as well with a handful of chants of their own.
Today will be a loud day in the Amazon room. Its clear that both players want this so bad, with neither one of them taking big risks and playing small pot after small pot. Today a winner will be crowned though, and that person will walk away with $500,075.
Stay tuned here at Pokernews for all your heads up updates.