Big Pot Alert; Brammer Knocks out Stocker and Stammen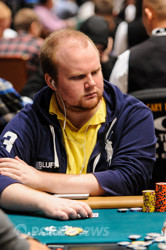 A massive pot just played out on Table 436 when Christopher Brammer busted both Keven Stammen en Thijmen Stocker. Brammer was stacking his new chips when we arrived, and Stocker told us what happened.
Brammer raised from the hijack and Stocker called in the cutoff. Keven Stammen was in the small blind, and he moved all in for right around 130,000. Brammer opted to re-shove for 500,000 and that put Stocker to the test. He called off for a total of 380,000 and these hands were shown.
Keven Stammen:

Christopher Brammer:

Thijmen Stocker:
The board gave Brammer two pair, and he is now the chip leader with just under a million in chips.