"IS THAT REAL???"
Level 8 : 300-600, 75 ante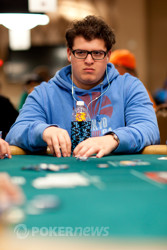 Moments ago, after taking a bad beat, Giuseppe Pantaleo snapped. He lost it.
We couldn't decipher most of what he was saying - it was in German - but he was screaming at both Ismail Erkenov (who just eliminated him) and the dealer.
"IS THAT REAL?!?!?!" he finally screamed in English.
Pantaleo stormed away from the table, smacked a nearby chip cart, and exited the Brasilia Room. When we reached the table, we saw that the board was
, and Pantaleo had
. Erkenov had
for trip threes however, and according to a player at the table, Pantaleo was all in preflop for 43,100.
We're not sure what happened to Pantaleo, but the tournament staff wasn't very happy about his behavior.