Stanislav Barshak Leads After Ten Levels of Six-Handed Action

Level 10 : 500/1,000, 100 ante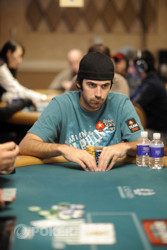 The $10,000 No-Limit Hold'em Six-Handed event is always one of the highlights of the summer. Big stacks, big names and even bigger pots were part of the first day of play, and Stanislav Barshak managed to come out on top with 230,700 chips. There are 167 players remaining who will come back tomorrow for day two.
One of the first players to bust out was Jim Collopy. He ran kings into Justin Bonomo's two pair and busted at the beginning of the second level. Bonomo went on the have a good day, he finished with 93,500.
A lot of attention went out to McLean Karr who was a part of a controversial hand in the second level of play. Karr had his hand declared dead in a situation where he could have won the pot. The usually quiet and composed professional was mad, and we wrote down what happened. Later on, the tournament supervisor came over and told us his side of the story after watching the surveillance footage.
Table 5, the party table, was right in front of the PokerNews desk, especially when Haralabos Voulgaris got moved there. Jason Mercier and Vicky Coren were already sitting here, and Voulgaris lit up the atmosphere. When Matt Waxman took the one open seat, and he got right into it needling Mercier about his fame. Coren and Waxman didn't managed to make it to the end of the day, and the latter was knocked out by Mercier himself. Towards the end of the day Carter Phillips got moved to Waxman's old seat, and he managed to win some off Mercier who finished with 148,300. Phillips starts tomorrow with 170,200 while Voulgaris has 77,200 left.
Nick Maimone was one of the early chip leaders and he ended the day on 171,800. Other big stacks are Dan Smith (210,000), Jeff Gross (152,000), Carter Phillips (170,200), and Ludovic Lacay (160,700).
Join us again tomorrow at 1 p.m. local time where Day 2 will commence. Good night from Las Vegas!